How to measure a tree
This article was first published on 06 Sep 2013.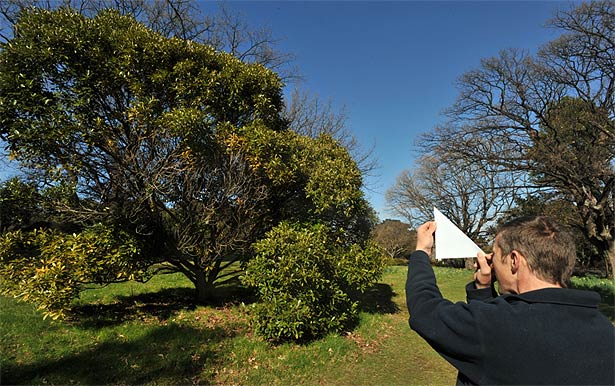 Measuring a tree
Trees often give structure to gardens, but because we see them every day, we say 'I'm sure that tree's got bigger'. The only way to tell is to take a measurement now and do the same in a year or few and compare. There are three main things to measure when looking at trees:
Girth - Circumference is measured at 'breast height', or 1.4m above ground level. This is easily measured by wrapping a tape measure around the trunk.
Spread - Spread is the full width of the canopy out to the drip line and this is usually done in 2 measurements, a north / south measurement and an east/west measurement. This isn't always possible due to plants or buildings but take measurements in a couple of directions then average them.
Height - Estimate height by folding a square of paper in half diagonally to create a triangle. Then with the right angle furthest away from your eye, look up the longest side of the paper keeping the bottom of the paper horizontal with the ground. Move towards or away from the tree until you are looking up the paper to see the highest point of the tree. Then measure from where you are standing to the base of the trunk and add your height to give you the height of the tree.
With the results you can take the guess work out of whether that tree is getting too big, or answer the question 'if that tree falls over will it hit my house?'.
Dylan Norfield is the collection curator of the Geographic and Arboretum collection at Dunedin Botanic Garden.