Huge Plant Produces Leaf
This article was first published on 01 May 2019.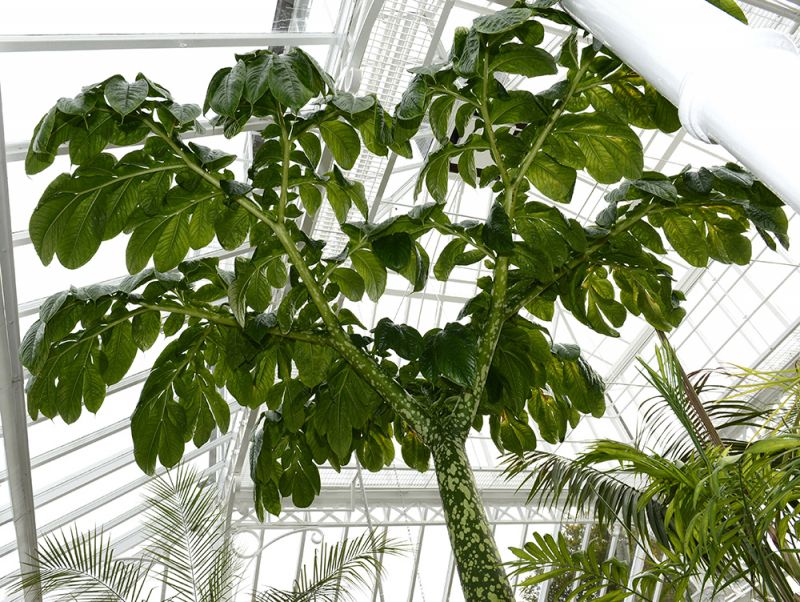 Amorphophallus titanum leaf
Photo by the Otago Daily Times
In February 2018 when the big stinky Amorphophallus titanum or corpse flower was in bloom, it attracted such a crowd that the queue was incredible. It went out the glasshouse door, past the rose garden, almost to Great King St. Well the plant's back on display in the winter garden central house but you won't have to queue to see it this time.
Having come out of its post-flowering dormancy, it has grown a leaf, one big leaf at that. The single leaf it produces currently reaches 65cm in circumference where the leaf stalk (petiole) meets the soil and a massive 2.6m high and 2.5m wide at the widest point. Each season it increases in size.
Before the plant went into flower the corm, a swollen bulb-like stem, weighed 32kg but lost a few kilograms using its energy reserves to produce a flower. After flowering the corm had reduced to 28kg by the time potting media was replenished in October 2018. But it has come back bigger than before, increasing in size and weight as it prepares to flower again, most likely in a few years from now.
Mature corms can weigh as much as 75kg. Pot size is increased just as the new bud emerges from the corm.
It is normal for each active season to be followed by a dormant period. Till now, this specimen's leaf and dormant period have taken two years to complete the cycle so it's likely to go through a few upcoming years producing only a leaf.