I See Red
This article was first published on 06 Jul 2011.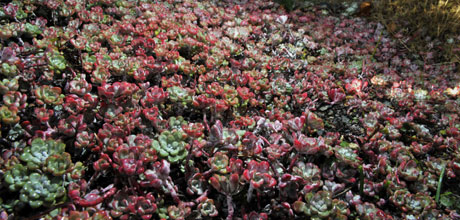 I see Red
It's always a bonus when a plant has more than one peak per year. Several hardy succulents fall into this category; flowering in summer, with the evergreen foliage taking on a deeper hue as conditions change.
Seeing Red
One such succulent, Sedum spathulifolium, is planted on the Dunedin Botanic Garden rock garden, not far above the large lancewood. This low growing perennial has small, spoon shaped leaves (hence spathulifolium), which are succulent and covered in a light grey bloom giving it a slightly waxy appearance. In the cooler weather the tips of the leaves take on a red colouring, providing a warm glow to this corner of the rock garden.
Second Peak
The flowers are star shaped, bright yellow and are held in tight clusters above the plant giving a summer lift to the grey foliage. Butterflies are attracted to the nectar.
Versatile
Native to the northwest of North America from California down to British Columbia, it grows in varied conditions from sea-level up to 2300m, on rocky slopes in sun or part shade. It will tolerate drought and, as long as the soil is free draining, rain. It works well used at the front of a border, as a ground cover, or in a pot or trough.
What's with the name?
Both the common name - Pacific stonecrop or broad-leaved stonecrop, and the botanical name Sedum, (Latin sedere - to sit), alludes to the way the plant nestles on and around rocks.
Robyn Abernethy is the Rock, Water & Alpine Collection Curator at Dunedin Botanic Garden