Individuality of Garden Collection
This article was first published on 09 Aug 2013.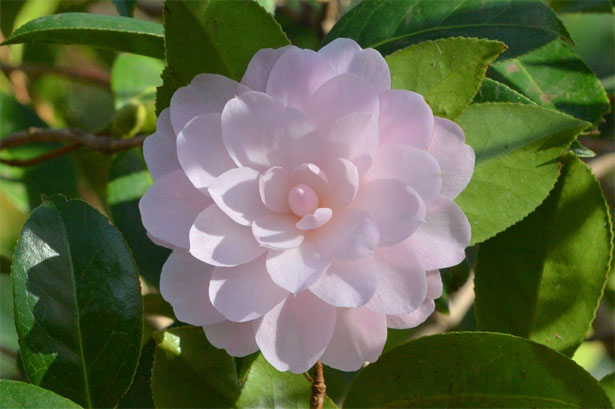 Camellia 'Mimosa Jury'
There's a unique kiwi flavour in the camellia collection plantings at the botanic garden, with scores of New Zealand bred cultivars.
As one of only thirty camellia collections world-wide to achieve the International Camellia Society's 'Garden of Excellence' award, it's this individuality which sets the botanic garden apart on the world stage.
New Zealand has several famous and prolific camellia breeders, who have registered about 500 new cultivars to date. Two kiwi camellias already in flower early this season are worthy of a special mention.
Camellia 'Mimosa Jury' is a perfect formal double of soft blush pink, delicate, elegant and hardier than it looks. This beautiful and high quality plant was bred by Mark Jury of New Plymouth, carrying on the tradition of breeding camellias from his father, Felix and uncle, Les.
Camellia japonica 'Takanini', flowers for an exceptional 6-7 months and, combined with its rich colour and good habit, is one of the most superb camellias available. It was bred by the brilliant and inspired Neville Haydon, one of the best camellia breeders and nurserymen in New Zealand over the past 35 years. The dark plum-red anemone form bloom has a ring of outer petals, surrounding a fuller central mass of intermingled petaloids and stamens.
Check the wooden plant labels to discover if you're admiring kiwi Camellia japonica 'Takanini', registered in 1987, or if perhaps, by chance, you've found the ancient Chinese cultivar Camellia reticulata 'Damanao', quite possibly selected by monks around 1621.
Marianne Groothuis is the Camellia Plant Collection Curator at the Dunedin Botanic Garden