Kaka Conservation a Shared Job
This article was first published on 27 Feb 2020.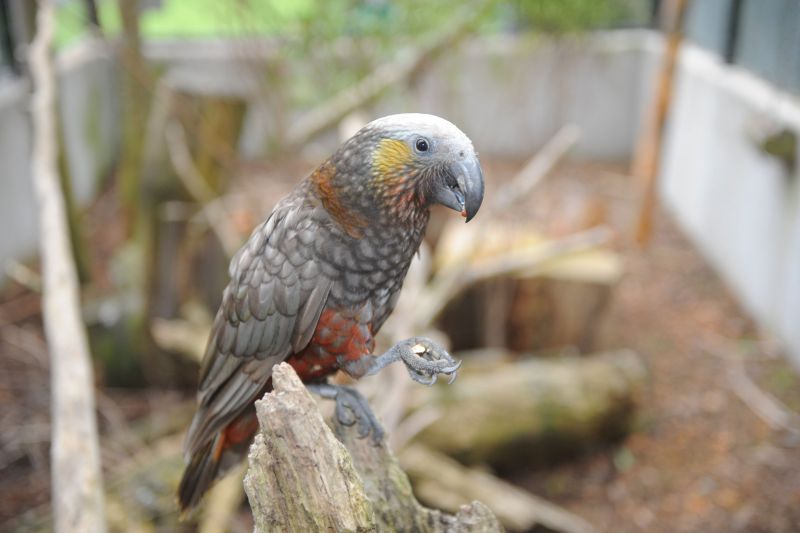 Botanic Garden Kaka chick
Photo by the Otago Daily Times
What a great breeding season it's been at the Dunedin Botanic Garden aviary. Six new South Island kaka chicks have been produced by two breeding pairs.
They will be released into Orokonui Sanctuary between February and April 2020 to boost the growing wild population establishing within and beyond the predator fence.
South Island kaka are considered 'nationally vulnerable'. They face many threats in the wild and as they become more established in our urban environment there are many things we can all do to help them thrive.
Trapping of pest species such as rats, mustelids and to a lesser extent possums and feral cats. Beware, dogs can also kill chicks too. Don't feed kaka human food – It's tempting but can lead to all sorts of physiological problems with adult birds and detrimentally impact young chicks during the breeding seasons.
Lead – in roof paint, flashings and nails is proving to be harmful to kaka in urban Wellington and something for us to think about in future in Dunedin. It tastes sweet to birds and kaka will lick and nibble at it. Water run-off from roofs sits in gutters and then drunk by kaka.
Plant more native trees to establish and extend green corridors and food sources. This helps kaka move around the region and harvest food as they go.
We are lucky to have so much green space in Dunedin. If we add to this and trap pests we could achieve an urban sanctuary.