Late season stunners
This article was first published on 16 Mar 2015.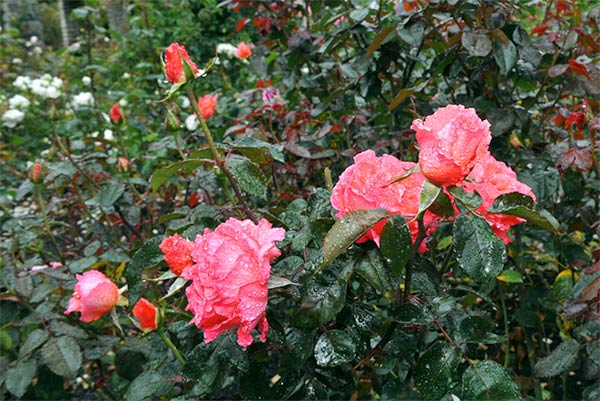 Rosa 'Paddy Stephens'
This summer has been a good one for the roses. We had fantastic growth in early spring and enjoyed a great display over the summer months.
As the season draws to an end there are still a few late season stunners in the Dunedin Botanic Garden collection to catch your eye. My favourites are looking healthy and still have plenty of flowers and buds to come.
Rosa 'Paddy Stephens is a blend of coral-orange salmon flowers and lush glossy deep reddish green foliage. This rose is always in the list of favourite Hybrid Tea roses in the New Zealand rose society's rose review book.
'Wise Woman'is another good Hybrid Tea. This rose has lots of lovely soft pink flowers and healthy, clean green foliage. In the rose garden, it is planted as a contrast beside the reddish foliage of R. 'Paddy Stephens'.
'The Golden Age'. This medium sized Floribunda is smothered in clusters of deep golden yellow flowers with very healthy deep glossy green leaves. A great rose for autumn.
'My Mum' is another good garden rose, very healthy and long flowering. Everyone loves a rose with a great name as well; this Floribunda was bred by Bob Matthews for his mother. In the catalogue the flower colour is accurately described as a scrumptious blend of coral salmon apricot and pink. This rose has flowered really well this season and yes, I have given this rose to my mother as a present.
Maybe you have room to add another rose to your garden?
Linda Hellyer is curator of the rose garden at Dunedin Botanic Garden.