Leafy Tropical Grows in Dunedin
This article was first published on 22 Mar 2012.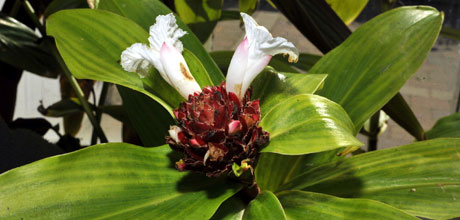 Cheilocostus
Whatever time of year it is Cheilocostus speciosus always offers something interesting to look at. It may be the new growth shooting out from the rhizome, the spiralling red cane-like stems, or the way the leaves are curiously arranged up the stems. Then there are the flowers, pure white and very delicate, emerging from a red, cone shaped bract produced at the top of each stem.
Cheilocostus speciosus can reach just over 3m in their native habitat of the Malay Peninsula in Southeast Asia but will often only reach 2m in cultivation. It has naturalised to the point of being listed as an invasive plant in Hawaii and other tropical areas. It is not reported as a pest plant in New Zealand but certainly grows well in frost free areas in the far north.
In Dunedin it should grow outside given the right conditions. It has been proven to be root hardy down to -17degrees. This means frosts will knock the plant back but it will come away from the rhizome in spring.
Cheilocostus are well suited to the tropical or sub tropical garden theme. They look at their best growing under palms that provide the shade they need. Under-plantings of colourful bromeliads, coleus or sub-tropical annuals suit them well.
Grow in fertile, organic, moist but well-drained soil
Plants should get from 3 to 5 hours of direct sunlight daily
Generally Cheilocostus are pest free.
Monthly applications of a balanced fertilizer during the summer growing season are recommended
Stephen Bishop is curator of the winter garden glasshouse at Dunedin Botanic Garden.