Leaves and Daisies Spring Up on Native Tree
This article was first published on 20 Sep 2012.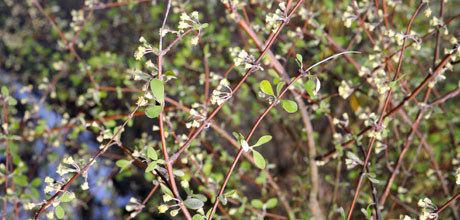 Olearia hectorii
In the native section of Dunedin Botanic Garden the season is springing into action. There are flowers aplenty and while many are quite small, they are often copious, beautiful in their detail and a few will reward your close inspection with delicious scents.
Although generally considered an evergreen flora, New Zealand's plants do include a few deciduous species. One such is Olearia hectorii, a tree daisy named for the scientist Sir James Hector (1834-1907). This esteemed gentleman was director of the Colonial Museum, the predecessor of the Te Papa Museum. He has a lake, a mountain, a settlement, a scientific award and eleven species, including the rare Hector's dolphin, named after him.
Hector's tree daisy is flowering now while the leaf buds are still swelling with spring; small moss-green leaves will soon emerge. The flowers are not as showy as many common garden daisies but they are produced in profusion along the branches. Tree daisies will often have a delicate fragrance that wafts on warm air around the plants.
Olearia hectorii grows naturally only in the South Island, including east Otago. There are less than 5000 individuals known in the wild and this species is considered as Nationally Endangered by the Department of Conservation. It is sometimes available from specialist native plant nurseries. Specimens can be seen in the divaricating plant collection in the upper botanic garden, parallel to Lovelock Avenue.
Shirley Stuart is curator of the native plant collection at Dunedin Botanic Garden.