Lilyturf an ideal plant for ground cover
This article was first published on 01 May 2017.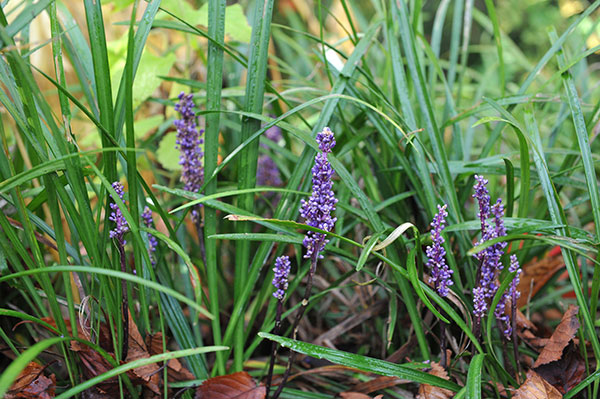 Liriope muscari
If you need a drought resistant, tough, all year ground cover with seasonal interest, then read on. Big blue lilyturf, Liriope muscari, is a tufted grass-like perennial with arching glossy green leaves. In autumn it sends up thirty centimetre spikes of densely clustered, tiny purple flowers. These have been likened to a grape hyacinth, Muscari spp. hence the specific name. If the flower is lucky enough to be fertilized it will then develop into a pea sized shiny black berry. Lilyturf has a fibrous root system with small tubers at the ends of some of the roots and it spreads in a non-aggressive way by means of short stolons to form a weed supressing mat.
Liriope is closely related to and has a similar habit to mondo grass, Ophiopogon. Several different cultivars are readily available including white flowered forms and variegated foliage forms.
Native to China, Japan and Taiwan lilyturf grows as an understory plant in forests, it therefore grows very well under trees and in shady places. It can also be used as a container plant. Further interest can be added by under-planting with spring flowering bulbs such as daffodils which would rise up above the foliage. In Greek mythology, the nymph Liriope was the mother of Narcissus; it seems somehow apt to grow the two together.
Liriope muscari is flowering in the Lindsay Creek border in the lower Dunedin Botanic Garden, almost opposite the Peter Pan Statue.
Garden Life is produced by Dunedin Botanic Garden. For further information contact Robyn Abernethy.