Local Christmas Flora
This article was first published on 05 Jan 2015.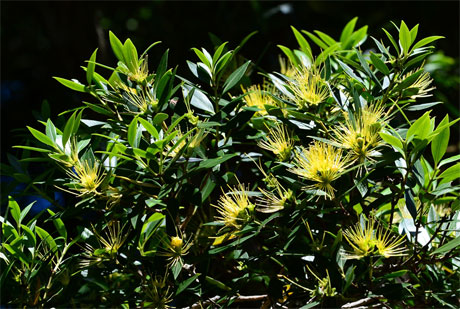 Pohutukawa
It can be hard to predict whether you'll need a sun or a rain umbrella at Christmas time in Dunedin. Either way our season is unique. Along with the usual festive symbols of ivy, mistletoe, or fir, it's nice to celebrate our special native flora at this time of year.
Pohutukawa is often called New Zealand's Christmas tree. In warmer areas, it will already be bursting with brilliant red blooms, but in Otago, pohutukawa trees are likely to remain in bud until January. However, a yellow-flowered form of southern rata, Metrosideros umbellata, is currently flowering in Dunedin Botanic Garden, along with the white-flowered Bartlett's rata, (Metrosideros bartlettii), an extremely rare species from Northland.
Otago has its own local treasures flowering in December. The native mountain "holly", Olearia ilicifolia, is a common shrub around the hills of Dunedin. The species name ilicifolia translates to "leaves like holly" (Ilex). The grey-green leaves of mountain holly are margined with thick, sharp teeth. You may have noticed the clusters of musky-scented white daisies on road sides and track edges around the city. Mountain holly is growing in the Asteraceae border at the Botanic Garden, alongside the other native tree daisies.
My pick for Dunedin's local Christmas tree would have to be the native cedar or pahautea, Libocedrus bidwillii. Another inhabitant of higher-altitude forests, its distinctive conical crowns dot the cloudy slopes of Mt Cargill, Swampy Summit and Flagstaff. You'd be better to lop a branch off a wilding pine for your Christmas tree, though!
Kate Caldwell is curator of the native plant collection at Dunedin Botanic Garden.