Magnolia campbellii
This article was first published on 21 Sep 2011.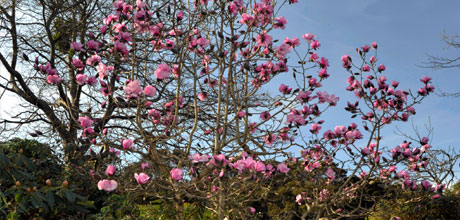 Magnolia campbellii
Beauty and Bizarreness in one Tree
Magnolia lovers often visit the upper botanic garden in spring to see the large Magnolia campbellii flowering in the Azalea Garden. It starts as early as mid to late August. Breath taking as that one can be, there are several other species and varieties flowering in the Rhododendron Dell that are well worth visiting. Most of these are smaller varieties or much younger and have yet to gain the same stature but all reward the eye with a rich succession of flowering right through to January.
One of the most stunning is Magnolia 'Caerhays Belle' which is one of many magnolias that were planted in the Rhododendron Dell about 20 years ago and have now reached semi-maturity. A quick walk through the Azalea Garden and down the Cherry Walk takes you straight to it. The tree is about 8m high, with the top half a loosely structured dome of full bodied, two tone, pink blooms. Each flower is the size of a small foot-ball and has 12 broad spoon-shaped tepals. En masse, these make a sumptuous compliment to the deep red Rhododendron 'Ilam Cornubia' in the foreground and the avenue of light pink Prunus 'Accolade' alongside.
Following the flowers though, are odd looking pink cone-like seed pods up to 20cm long. The developing seeds embedded along the side of these mature at different rates, resulting in bizarrely contorted cones. You could hardly call them attractive but they certainly add character to a tree that gives us an experience of both the sublime and the ridiculous.
Doug Thomson is curator of the Rhododendron Dell at Dunedin Botanic Garden.