Maples Ping in Spring
This article was first published on 02 Nov 2016.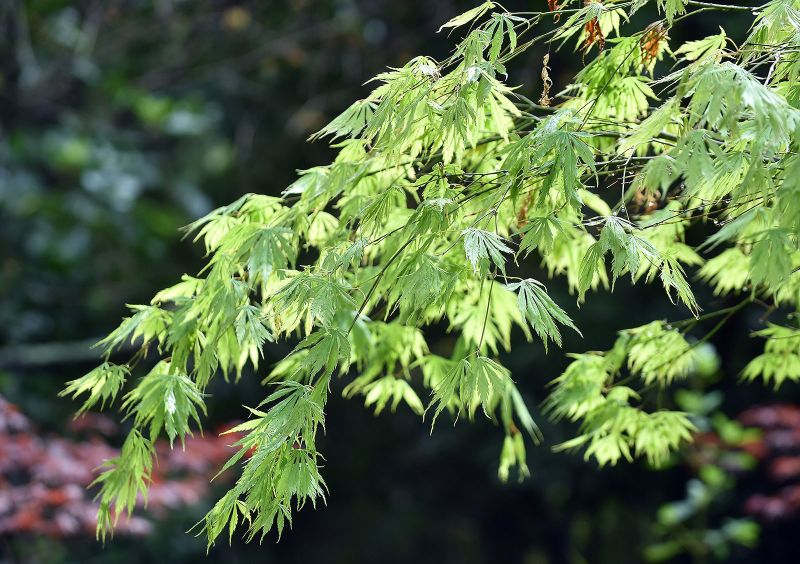 Japanese maple
Photo by the Otago Daily Times
When it comes to maples, especially Japanese maples, the picture of autumn colours easily comes to mind. The great thing about many maples is they also have brilliant spring colours, enough to compete with the glorious spring flowers.
Maples are such a versatile group, with one for almost every situation, and many giving year round interest with varying foliage colours. For the deciduous species, spring heralds the start of the season, showing off their fresh new foliage with colours ranging from yellows, pinks, whites and reds to every shade of green imaginable. Many of the non-green colours will tone down to green over the summer months, only to be re-invigorated again in autumn.
Now is a good time to plant many of the species and cultivars, with a reasonable range available in the shops. Plant carefully, ensuring the hole is the same depth as the soil in the pot as maples dislike being planted too deeply. In sheltered locations all species grow well, but if you are in a windy spot choose one of the tougher species. A good choice for windier locations is the paperbark maple or one of the snake-bark maples. Any maple in a windier location will need a lot more moisture. Water in well when planting and maintain watering throughout the growing season to get them established.
A large range of species and cultivars of maples can be seen throughout Dunedin Botanic Garden, with many growing in the arboretum above the rock garden.
Dylan Norfield is collection curator of the Geographic and Arboretum collections at Dunedin Botanic Garden.