Mid-season standouts demonstrate the ideal rose
This article was first published on 23 Feb 2018.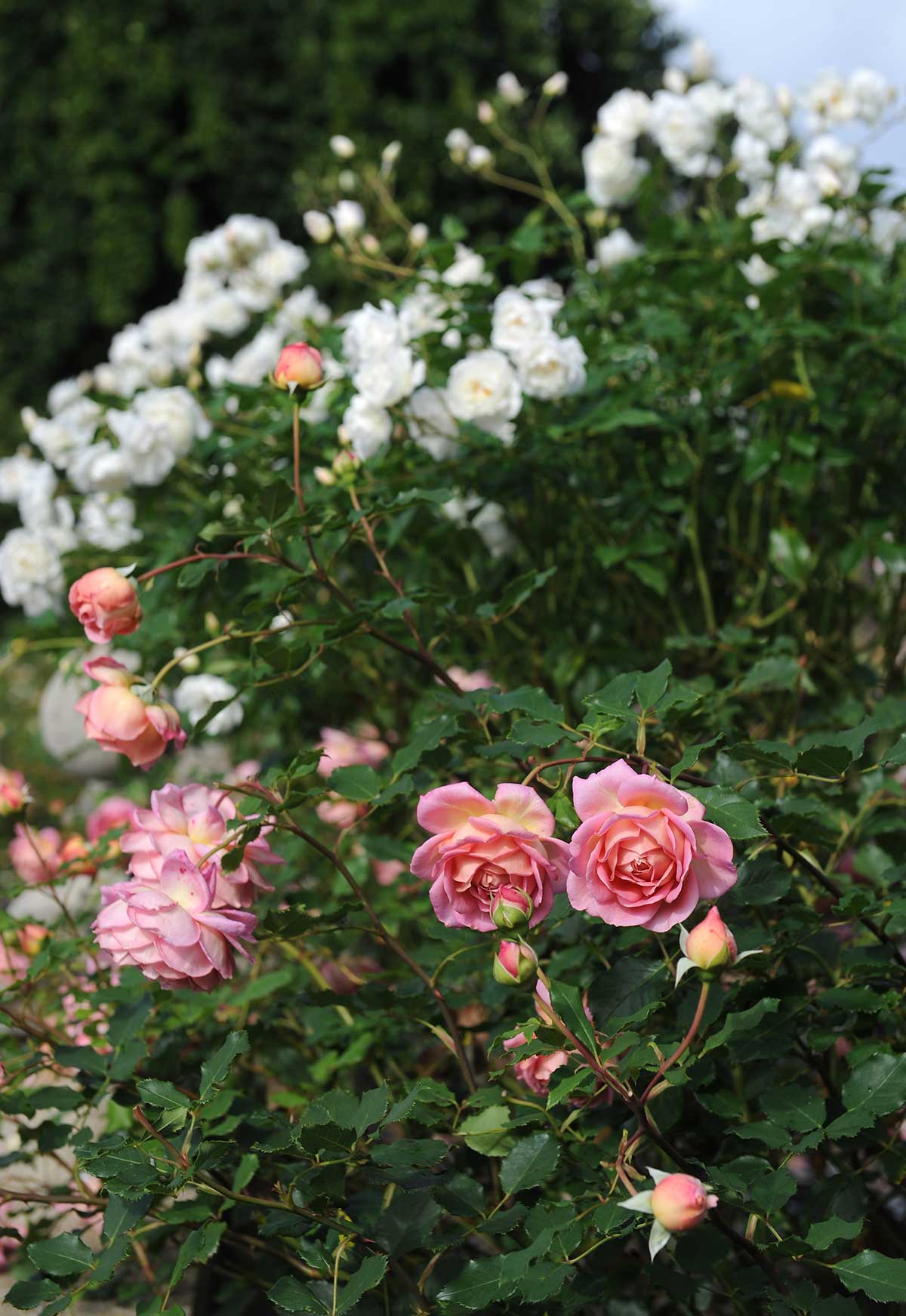 Rosa 'Jubilee Celebration' with 'Iceberg'
Healthy looking roses, flowering profusely and with plenty of buds coming on are the ideal in a rose at this time of year. They are a testament to its vigour and long flowering season.
One particular rose that fits into the above ideals is Rosa 'Iceberg'. It really does have a long flowering period, and hardly ever is without flowers in between its major flushes of flowering. Grown for this flowering ability and very healthy foliage, it would have to be one of the best white floribundas.
'Iceberg' forms a graceful, upright shaped bush and will reach between 1 to 1.5 metres with attractive large, shiny, clear, green leaves. Shapely buds open to doubled, rounded pure white flowers, held in large clusters on almost thornless stems, long enough to cut for the vase. Examples can be seen at Dunedin Botanic Garden outside the winter garden glasshouse, either side of the lion statues.
Rosa 'Iceberg' is also growing as a standard rose bush in the bed at the west end of the glasshouse, along with the fantastic English Rose R. 'Jubilee Celebration' which, in itself, offers us another good display. Rosa 'Jubilee Celebration' is a stunning David Austin rose with an exceptional sweet fragrance and flowers of a rich salmon pink with a tint of gold on the underside of the petals.
Staff at the botanic garden often hear welcome comments from visitors that this is what a rose should smell like.
Garden Life is produced by Dunedin Botanic Garden. For further information contact Linda Hellyer.