Native and Exotic Plants Feed Native Birds
This article was first published on 04 May 2015.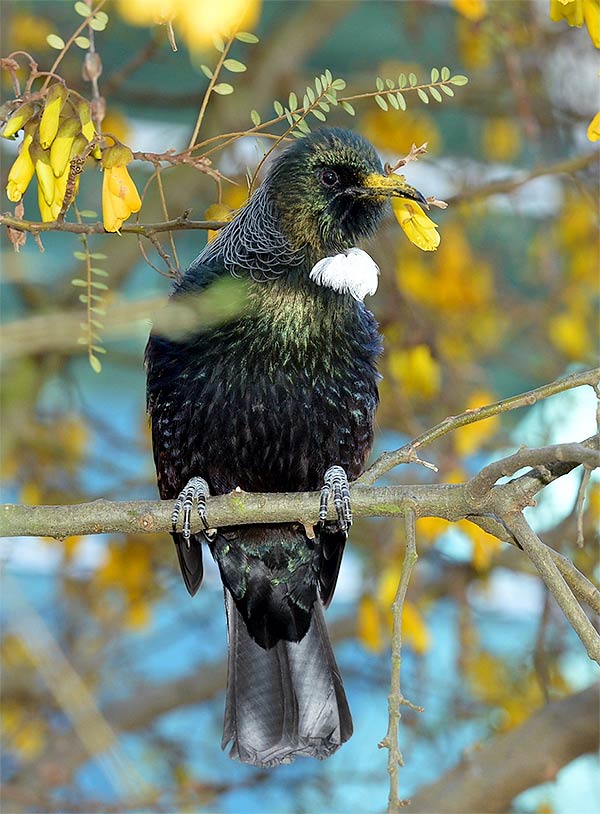 Tui
Creating an environment to encourage native birds to visit your home garden may not be as hard as you may think. With a bit of planning and patience you too could be enjoying the song of tui, bellbird and many other native and exotic species without having to leave the comfort of home. The size of your garden will ultimately determine whether one uses plants or bird feeders or a combination of both to help to attract our feathered friends.
Planting New Zealand natives is a step in the right direction for nectar feeding birds, tui and bellbird. Try planting Sophora microphylla (kōwhai), a small growing tree that bears outstanding golden yellow flowers or Phormium tenax(flax). Their sword-like leaves and tall flower spikes provide an ample food supply for many weeks.
If New Zealand native plants are not your thing there are exotic options such as Callistemon linearis, an Australian shrub that bears crimson bottlebrush-like flowers that tui and bellbirds find irresistible.
Another local, the New Zealand woodpigeon, feeds on fruit and foliage from both native and exotic plants so try planting as a native option Cordyline australis(cabbage tree) for the fruit, or Australian Eucalyptus(gum tree) for the foliage. Coprosma lucida,a New Zealand native shrub, bears bright orange fruit that the silvereyes love and if you are lucky the grey warbler and New Zealand fantail may also visit to feed on insects.
With careful selection, it's possible to provide a year round food source for native birds.
Neale McLanachan is a third year apprentice at Dunedin Botanic Garden.