New Zealand's White Christmas Tree
This article was first published on 23 Dec 2011.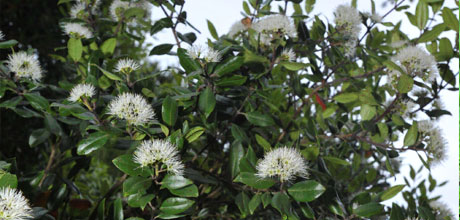 Metrosideros
It's that time of year again, time to pull out the tinsel and hang the holly. Here in the southern hemisphere we have developed our own traditions based on a summer Christmas. One of these is the adoption of pohutukawa as our national Christmas tree with it's decoration of stunning red flowers around Christmas time.
A member of the genus Metrosideros, pohutukawa (M. excelsa) has some very well known kin, namely the northern (M. robusta) and southern (M. umbellata) ratas. However if you've ever dreamt of a white Christmas you may be interested in a lesser known species of rata, Metrosideros bartlettii or Bartlett's rata.
Bartlett's rata has been known to science only since 1975 when it was discovered in Radar bush near Cape Reinga by John Bartlett. This is a rare tree known from only three forest remnants in the north. Similar in appearance to northern and southern rata it is distinquished by the pale spongy bark that separates in thin flakes. What also sets it apart are the small white flowers. When the flowers were first seen, by Dr Nigel Clunie, they were described as 'like snow over the tree crowns'.
In the north the small white flowers appear from October to November but here in the south flowering is later. Flowers can be seen in Dunedin Botanic Garden on the specimen in the Myrtaceae border by the NZ Native Collection lawn which is opposite the daffodil lawn.
Shirley Stuart is curator of the Native Plant Collection at Dunedin Botanic Garden.