Osmanthus delavayi
This article was first published on 19 Sep 2013.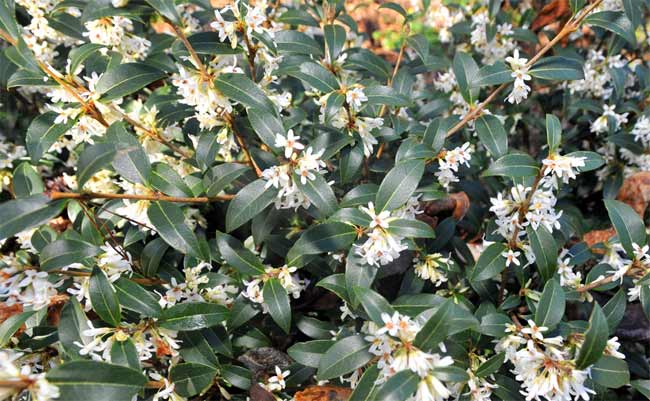 Osmanthus delavayi
The spring display is building rapidly now with new blooms appearing weekly. It is not only a time of fresh colour but of delicious scent and one of the more enticing plant fragrances comes from Osmanthus delavayi.
Specimens of Osmanthus delavayi are in several areas of Dunedin Botanic Garden. In the Rhododendron Dell they are by the woodchip track heading down hill, just west of the Azalea Garden.
They form a striking group with dark, evergreen foliage and masses of small tubular white flowers scattered along the wiry stems. Jasmine-like scent carries on the air, attracting passers-by on still, warm days in late August and early September. Once the flowers fade, the ovoid, blue-black fruit begin to develop as a feature for autumn.
Osmanthus delavayi thrive in both acid and alkaline soils if the soils are fertile and well drained. In fact, this group is in an area that at one time was the fruit and vegetable garden for the adjacent Tannock House, the villa occupied by an early curator of the garden. Successive applications of lime had made the area unsuitable for rhododendrons but the Osmanthus have grown into healthy 1.5m mounds and are gaining vigour with age.
Left unpruned they can reach up to 4m but more usually grow to 2m. Any longer shoots can be pruned off just after flowering to maintain the compact habit.
Undemanding and versatile, O. delavayi are ideal plants for the novice, whilst their combination of health, beauty and scent make them welcome in any garden.
Doug Thomson is curator of the Rhododendron Dell at Dunedin Botanic Garden