Our English Elms are Rare Survivors
This article was first published on 27 Sep 2013.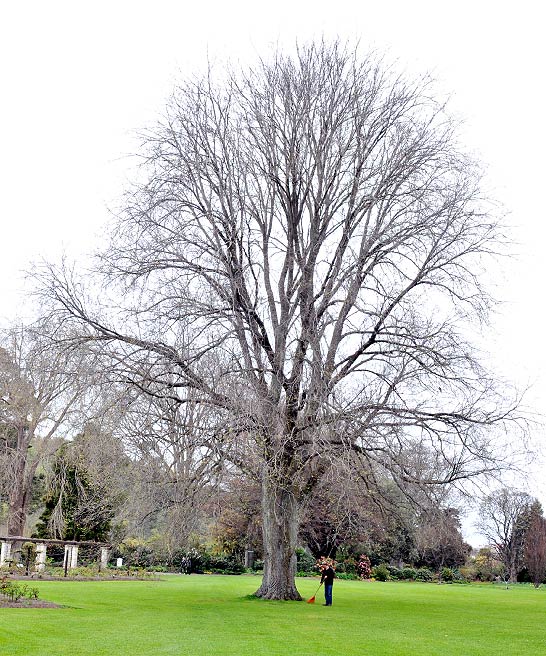 English Elm
Occasionally a visitor from overseas reminds me how lucky we are to have mature English elms in Dunedin Botanic Garden. See one impressive specimen just south of the modern roses.
Though once a common sight in Europe, North America and Asia, they are now rare. They were devastated in the 1970s by Dutch elm disease, a fungal infection that claimed an estimated 25 million trees across Britain alone.
What really makes these trees so susceptible to disease is their complete lack of genetic diversity. In fact, they are clones of a single tree - genetically identical. The English elm is incapable of producing fertile seed so the only way to propagate it is from cuttings or root suckers.
The Not So English Elm
Originally taken to the British Isles by Romans, the English elm, Ulmus procera, is widely considered to have originated in Italy or perhaps Turkey.
A few treasured old trees still exist in England but mostly Ulmus procera is represented there by suckering regrowth. This usually becomes infected within twenty years, once again reducing plants down to ground level.
Description
In Dunedin, Ulmus procera forms an immense tree up to 40m high with a stout, tall trunk, heavy ascending branches and a dense, spreading canopy. The 5-6cm leaves are rough as sandpaper on the upper surface, with conspicuous parallel veins and serrated margins.
The small reddish flowers develop in the naked leaf axils in early spring, followed by the bright green, winged and disc-like fruits.
Marianne Groothuis is the camellia and theme collection curator at Dunedin Botanic Garden