Pause Provided by Graceful Plant
This article was first published on 17 Jul 2015.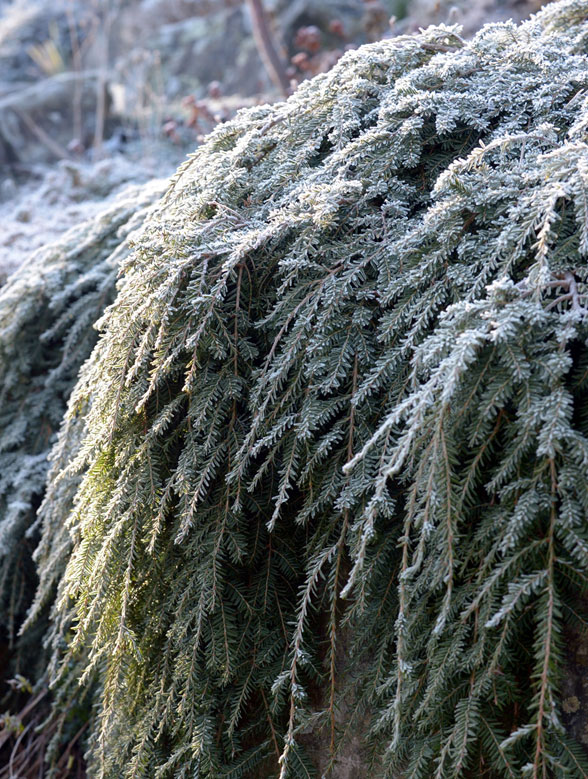 Tsuga canadensis
Rock gardens are designed to showcase tiny treasures which would otherwise get lost amongst a shrub or herbaceous border. To present these plants to full effect, the occasional patch of green is needed to provide a spot of calm amid the floral displays, and to provide all-year interest and structure. Many rock plants earn a winter rest period and either disappear underground or look a bit shabby, so an evergreen foil is perfect. One group of plants which can achieve this is the miniature conifers, a favorite being the delightfully weeping Tsuga canadensis 'Cole's Prostrate'.
Vastly different in habit from its 30 metre-high parent, Canadian or eastern hemlock, the arching branches of this cultivar spill over the ground. Rows of dark green needles add to the plant's graceful appearance. Being in the pine family, it has a lovely resonant fragrance when brushed against while walking past or weeding around.
Height is no more than about 60 centimetres, with a spread of 2 metres, and the plant can develop quite a distinguished gnarled appearance in the centre after several years. Spring growth is a fresh bright green; therefore any pruning is best done in summer or early winter. The plant will not recover from hard pruning, so prune only lightly when required.
There is a great specimen on the lower path at the north end of Dunedin Botanic Garden rock garden. It tumbles elegantly down over a large rock and looks stunning coated with frost on a crisp winter morning.
Robyn Abernethy is the Rock, Water & Alpine Collection Curator at the Dunedin Botanic Garden