Pinks that Perform
This article was first published on 07 Mar 2014.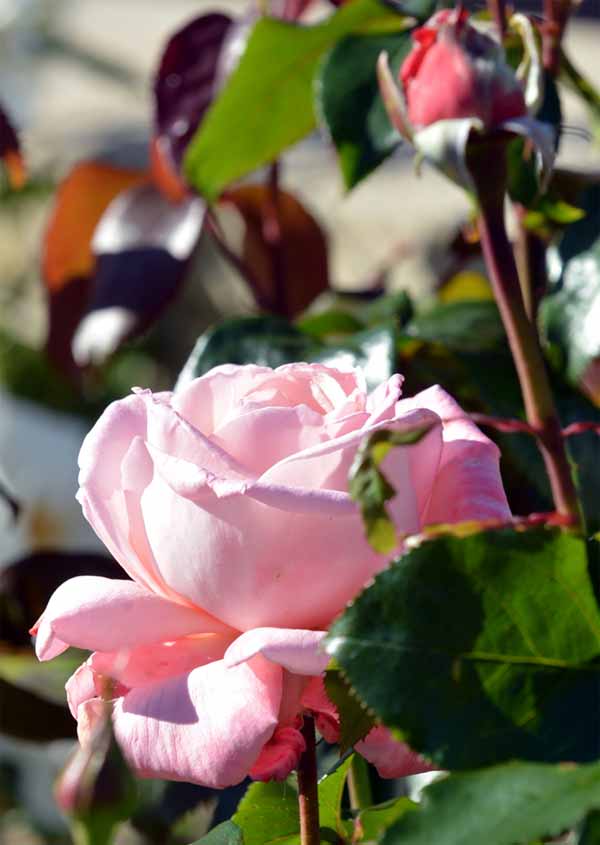 Aotearoa
Pink is a very popular flower colour for roses. At Dunedin Botanic Garden rose garden it is one of the colours that dominate the display – it is a popular choice for rose breeders as well as the public.
When it comes to choosing a pink flowering rose for your garden I don't think you will have any problem selecting one. You could go for a climber, or be spoilt for choice with the loads of options available in modern bush roses (hybrid teas and floribundas). I suppose the hard work is deciding on the right shade of pink and where you plant the rose.
Some pinks that have performed well at Dunedin Botanic Garden -
Rosa 'Aotearoa New Zealand' - Hybrid Tea has it all. Fantastic fragrance and long stems suitable for picking and large creamy pink flowers. Planted at Dunedin Botanic Garden as a standard rose bush between the white R.' Iceberg' roses in front of the wintergarden glasshouse, the pink combines with the white to make a lovely display.
Roses that climb
R. 'Coconut Ice' – clusters of fragrant creamy pale pink flowers, on a very healthy reasonably vigorous climber.
R. 'Mlle Cécile Brünner, Climbing' – charming old climber, reasonably vigorous and always in flower. Masses of miniature, pale, soft pink hybrid-tea like flowers.
Rose bushes
R. 'Modern Miss' – Hybrid Tea, medium sized bush with light pink flowers.
R. 'My Girl' - Hybrid Tea, mixture of deep pink to pale pink flowers, a healthy small bush.
R. 'Sexy Rexy' – Floribunda, medium sized bush with ruffled soft clear pink blooms.
R. 'Dear One' – Floribunda, lovely small rose bush with delicate porcelain pink flowers.
Linda Hellyer is curator of the rose garden at Dunedin Botanic Garden.