Planning and Work Pay Dividends
This article was first published on 23 Nov 2016.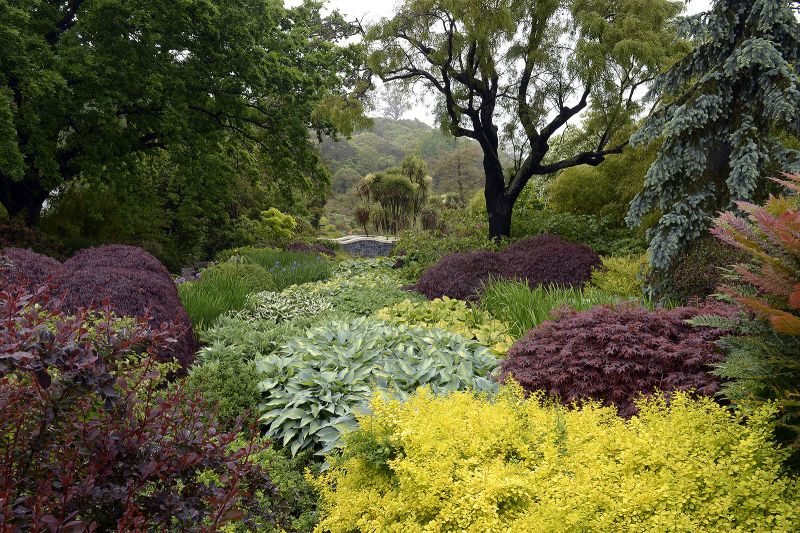 Lister Garden
Photo by the Otago Daily Times
There's always something of interest at Dunedin Botanic Garden's Clive Lister Garden, but it is at its prime in late spring and early summer.
At this time of year the red and green Japanese maples have fully developed their leaves but still have their crisp spring colours before taking on the darker summer tones. These provide a lovely backdrop forhostas that are all fresh into leaf; the colours and textures contrast with each other well.
Allium poke up through herbaceous plants with their round purple heads gently nodding in the breeze, making a wonderful sight. Rich blues of Iris flowers erupt from tall, narrow, strap-like foliage. Heuchera seem to have the most intensely coloured foliage at this time of year and the rising flower stems are a promise of things to come, an added bonus.
I could go on and mention the meconopsis, magnolia and michelia etc. but where do I stop? Best you come and look for yourself.
Careful planning of plant and colour combinations is key to having such glorious displays. Good management also plays a part. A layer of organic compost is added just before the spring growth kicks in, keeping the borders looking fresh and providing plants with organic material to keep them thriving. It also keeps good moisture levels in the soil, preventing it from drying out. Keeping on top of weeds is also important so the desired plants are the stars of the show.
Stephen Bishop is curator of the Clive Lister Garden at Dunedin Botanic Garden.