Plant Place is a Place for People
This article was first published on 02 Sep 2021.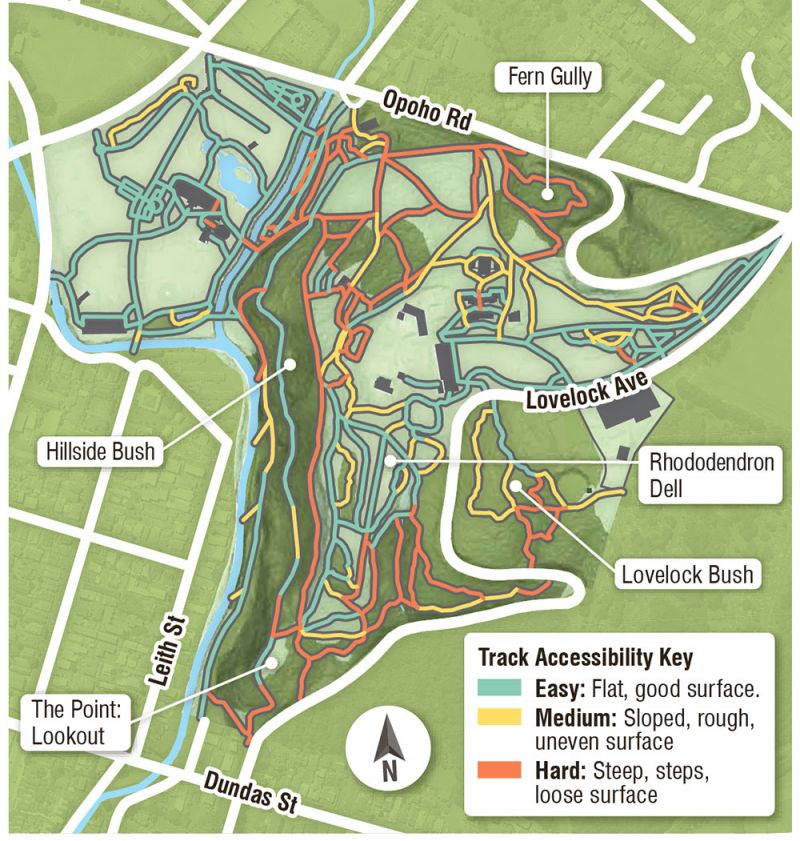 Dunedin Botanic Garden map for recreation
Photo by the Otago Daily Times
It would take about four hours to walk every track in Dunedin Botanic Garden. Although that sounds like a make-the-best activity for locals in lockdown, on the other hand, why not at any time?
As well as the main visitor precinct, wandering curiously will take you to sunny slopes, bush walks, secret gardens and city views.
Each track has an averaged rating according to accessibility: easy, medium or hard, shown on the map pictured. It's surprising how many areas, even on the hill, are fully accessible.
Approaching from the top of the hill means the possibility of instant wilderness. Lovelock Bush has flat, woodchipped tracks through regenerating bush, very few visitors, peace and quiet.
Across the road, the Rhododendron Dell offers four hectares of exploration among formal beds nurtured by native forest. Venture out to The Point lookout. It feels like the bow of a ship jutting out into studentville below. City views extend beyond.
The New Zealand native plant collection has heaps of flat track, some sealed with packed, fine gravel, making most of the collection fully accessible from the upper garden carpark.
Beside the aviary, the geographic plant collection takes you on a tour around the world. Lawns with seats face a perfect northwest.
Good quality tracks take you through Fern Gully and Hillside Bush, the scenic route to the flat.
Even the popular lower botanic garden has explorable outer edges by Great King St and the motorway.