Planting Bare Rooted Roses
This article was first published on 28 Jun 2013.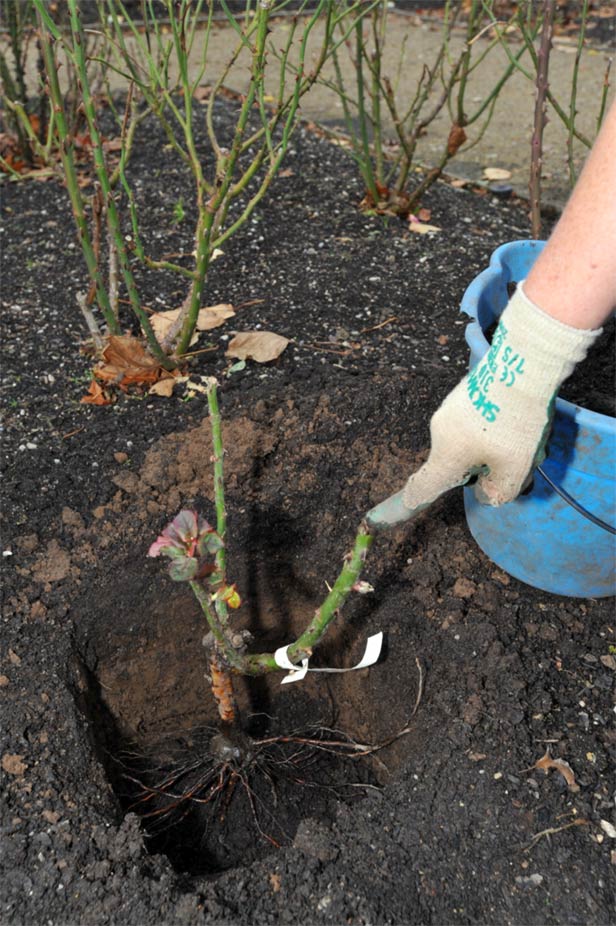 Planting bare-rooted roses
One of my biggest jobs in winter is the planting of the new season's roses. They arrive bare-rooted from the rose growers, straight from the open ground.
When sold at garden centres they have been only recently potted up, so home gardeners should treat their planting as if they were a bare rooted rose.
If planting in a location where a rose has previously been planted, be aware that nutrients might be depleted. It is best to remove old soil and add fresh new soil or compost to the hole for a good start.
Make the hole wide enough for the roots to spread out comfortably and deep enough so the graft union of the rose will be at the same level as the existing garden bed. Make a small mound in the centre with good soil and compost.
Trim off any damaged roots or branches. Spread the roots umbrella style over the mound, ensuring the soil is firmly tucked up into the centre and the roots aren't scrunched up. Refill the planting hole with soil and finish planting as with any other plant.
Roses are pruned before dispatch and are sometimes damaged in transit. Check the cut is above a healthy bud and recut if necessary.
Water well. Even in winter, soil can dry out because of the seal caused by the frost layer. Lack of moisture definitely hasn't been a problem this winter!
Linda Hellyer is curator of the Rose Garden at Dunedin Botanic Garden