Protea
This article was first published on 22 Mar 2011.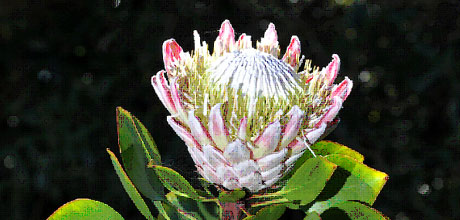 Protea
Protea Makes Majestic Statement
Royalty
If you are looking to commemorate the up coming royal wedding why not plant a 'royal' plant.Protea cynaroides or the king protea will make a talking point in any garden for years to come.
Plant of Many Forms
The wide variation in Protea led to Linnaeus giving its name after the Greek god Proteus who could change his form at will.Protea is in the sub family Proteoideae which are found mainly in Southern Africa.
The King
Protea cynaroides is widely distributed across the Fynbos region of South Africa. It has been adopted by South Africa as their national flower and the name for their national cricket team. The king protea is probably one of the stateliest flowers reaching 30 cm across in shades of pink and red.
Likes free draining soil.
Do not feed with nitrates or phosphates. Does not need feeding.
Dislikes root disturbance.
Likes a sunny spot with plenty or air movement.
1 – 2 metres tall with a similar spread.
King proteas can be seen in the Southern African Garden, above the Mediterranean Garden at Dunedin Botanic Garden.
Dylan Norfield is the Collection Curator of the Geographic and Arboretum Collections at Dunedin Botanic Garden.