Proximity Breeds Success
This article was first published on 26 Mar 2014.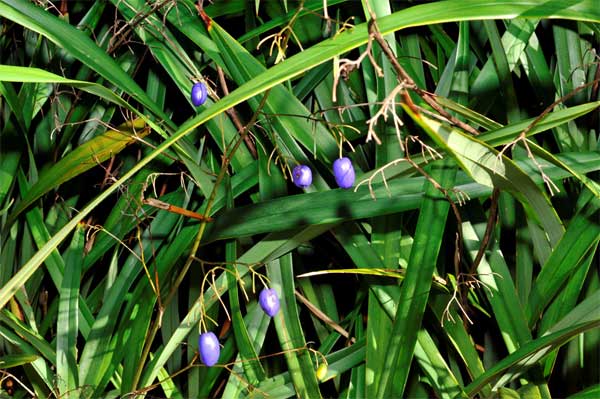 Dianella tasmanica
A close neighbour is close to showing us up. From southeastern Australia and Tasmania comes the Tasmanian flax lily, Dianella tasmanica. This tough but unassuming little Aussie has a collection of qualities that make it an invaluable plant for that tricky spot in the Dunedin garden.
Dianella tasmanica is a relative of New Zealand's native tūrutu, Dianella nigra, with the berries, flowers and leaves on the Australian species all being on a larger scale. The Australian has long, strap-like evergreen leaves, from which flower spikes 1 metre tall emerge, topped with dainty blue flowers in spring and early summer. Large blue fruits, the size of small marbles, follow in autumn and persist for over a month.
Used to the Tasmanian weather, the flax lily is quite at home in Dunedin's climate, and is great planted as a ground cover under larger trees or shrubs. Very tolerant of a variety of ground conditions, it thrives in most soil types, from drier, free draining conditions to damp heavy clays.
Plants slowly spread by underground rhizomes, forming neat clumps quickly. These rhizomes also make plants easy to divide with a spade and this is the best method of propagation.
Dianella tasmanica can be seen growing in the upper Botanic Garden, throughout the Australian Borders of the Geographic Plant Collection around the aviary.
Dylan Norfield is the Curator of the Geographic and Arboretum Collections at Dunedin Botanic Garden.