Pruning Contributes to Shrub's Success
This article was first published on 27 Nov 2015.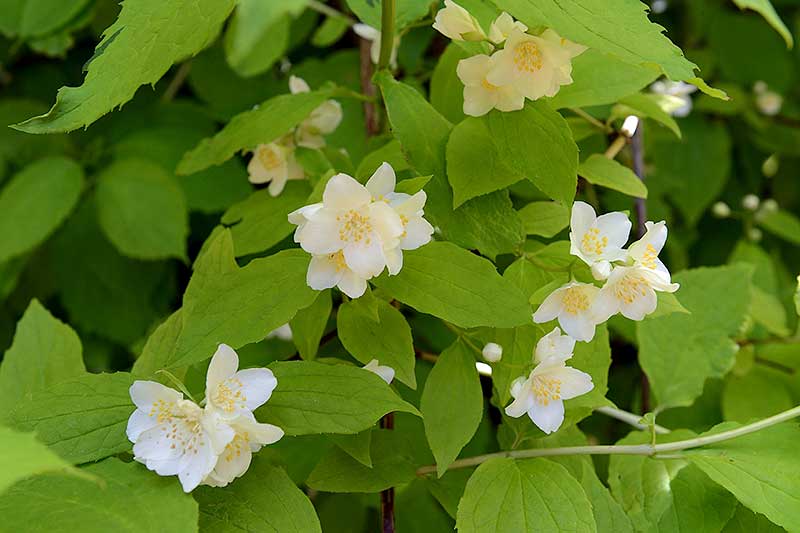 Philadelphus coronarius
The popular mock orange shrub, Philadelphus coronarius has a cultivar called 'Aureus' which is beautiful at the moment. It's flowering at Dunedin Botanic Garden in the Coloured and Variegated Foliage Theme adjacent to Great King Street.
The cultivar name 'Aureus', meaning golden, is derived from Latin. When the new foliage unfurls on this deciduous shrub, the leaves shine with a luminescent limey green, making it a perfect specimen for this border. As spring turns into summer the leaves become a slightly darker, more natural green.
Philadelphus coronarius and its cultivars respond extremely well to pruning. Always consider what you are planning to achieve before pruning your plant. In the case of Philadelphus coronarius 'Aureus' if you want the ornamental foliage be the star and are prepared to forego the flowers, prune just before flowering. Trimming lightly to remove flower buds encourages regrowth of larger, more impressive foliage.
If you are interested in keeping the floral display, pruning is carried out immediately after flowering. You can reduce congestion at the base of this multi-stemmed shrub by removing one in four stems. Start with the oldest wood, and complete to a well-balanced framework. Cut stems down near ground level or to a shoot near the base.
Right now the pure snow white flowers are just beginning to open. The proliferation of delicate pointy buds and flowers creates a lovely colour combination with the lime foliage. As well as good looks, Philadelphus coronarius 'Aureus' has flowers with a deliciously sweet and heady fragrance.
Marianne Groothuis is the camellia and themes plant curator at the Dunedin Botanic Garden.