Rhododendrons from Tall to Small
This article was first published on 06 Aug 2020.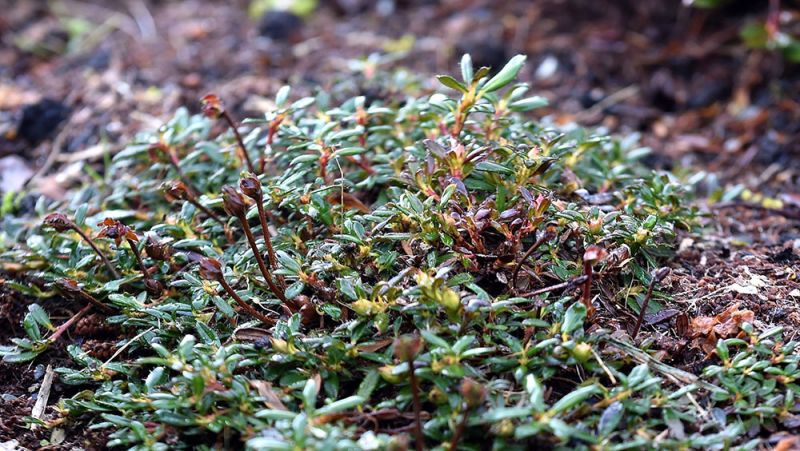 Rhodo dwarf
Photo by the Otago Daily Times
One of the beauties of rhododendrons is that if you want to grow them, there are species to suit any size of garden. Got a hectare or three? Great! You can grow whatever you like, even including the tall trees from Himalayan valleys and temperate rain forests.
If you are more restricted for space though, maybe even having only one small corner of the garden available, then there are still many to choose from.
The peat garden in the Rhododendron Dell at Dunedin Botanic Garden is the perfect place to see how dwarf rhododendrons can fit into the garden setting and gives some idea of the range available.
Some species, such as R. yakushimanum and R. pachysanthum, growing as one at the back of the peat garden, are generally considered to be low growing. These specimens though, planted in 1992 and now 1.5 to 2m high, show that they can grow to be sizable features of a planting scheme.
Examples of true dwarves such as R. orthocladum var. microleucum - 60cm at maturity, R. megeratum -30-90cm and R. pumilum -15cm, are growing around the rock retaining edge and represent the high alpines of the rhododendron world.
The ultimate dwarf is R. keleticum from stony, peaty moorlands between 3,400 and 4,600m in southeast Xizang. The higher altitudes in the range produce the smallest forms which, whittled by the elements, form creeping mats of dark green foliage only 2.5 cm high studded later in spring by rosy-purple flowers.