Rock Phlox Rocks
This article was first published on 07 Dec 2011.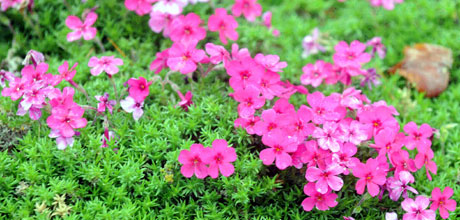 Phlox
Vivid splotches, pouring over rocks and hugging the ground - rockery phlox can be both tough and gorgeous.
Phlox is a North American genus hailing from Alaska down to north Mexico. Their flowers consist of 5 notched petals fused together at the base in an elongated tube, lifting them away from the foliage. Most of the commonly grown prostrate species have originated from two species – P. subulata and P. douglasii.
The mountain phlox, Phlox subulata, forms vigorous, dense mats smothered in flowers which range from white through to varied shades of pink, lavender, carmine-red to blue, often with a darker centre or 'eye'. The foliage is needle like and quite prickly to touch.
An extremely reliable cultivar is P. subulata 'McDaniel's Cushion'. It is very tough, and lavishly covered in hot pink flowers in late spring. P. subulata 'Scarlet Flame' is just as reliable but a bit more subtle with more delicate carmine-red flowers.
Phlox douglasii is a less vigorous species, but with the same ground hugging habit, and white, lavender or pink flowers. One which was raised here in the mainland by Hokonui Alpines, forms a delightful cushion covered in small bright pink flowers – Phlox douglasii 'Pink Buttons'
These phlox are very useful in softening garden edges, and flowing over banks and rocks. They thrive in a well drained soil in sun or light shade meaning that they flourish on the Rock Garden at Dunedin Botanic Garden, injecting random accents of colour.
Robyn Abernethy is the Rock, Alpine and Water Collection Curator at the Dunedin Botanic Garden