Schima wallichii – a giant of the forest
This article was first published on 23 Feb 2012.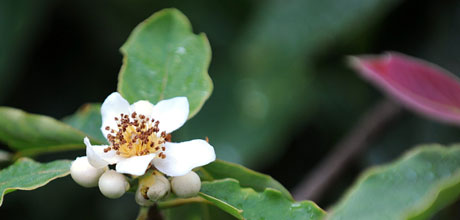 Schima
Geographically Challenged
In the Himalayan border of the Geographic Collection a stunning plant can be found which has large glossy green evergreen leaves that emerge rosy red when young. This was enough to sell the plant to me, but to my surprise, this year it also put on a showy display of white flowers festooned over the tops of the branches.
Schima wallichii belongs to the tea family,Theaceae, which also includes the popular garden camellia. When you look at the fragrant creamy-white flowers you can see some similarities. The genus Schima has a large native geographical distribution from India, China, Thailand, Malaysia and across to the Philippines amongst others.
Forest giant
Schima in cultivation only grows to a small tree or shrub but is reported in the wild to reach 47m.
The plants growing in the Botanic Garden were grown from seed collected by the Botanic Garden Curator at the time, from the Arun valley, Nepal in 1995. After 17 years it is approximately 4 metres tall and this is the first time the plant has flowered. Maybe it needs the hot summer weather we have had this year to initiate flowering, hopefully we will see flowers each year from now on.
Dylan Norfield is Collection Curator of the Geographic and Arboretum Collection at Dunedin Botanic Garden.