Shrub Holds its Own
This article was first published on 24 Jul 2013.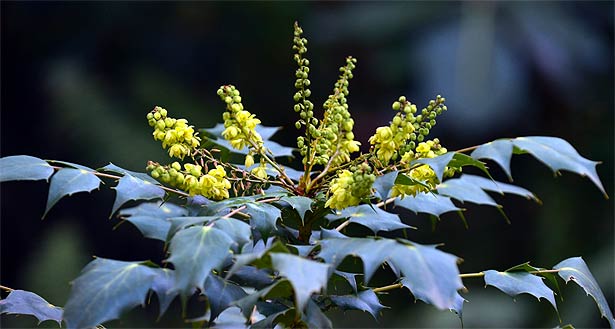 plagianthus-regius.jpg
The Rhododendron Dell in Dunedin Botanic Garden has several large old ribbonwood trees scattered throughout. Although I enjoy their craggy presence in the landscape, they present a challenge for trying to establish other plants nearby. Having surface feeding roots, Plagianthus regius compete directly with rhododendrons in the top layer of soil. Invariably the rhododendrons lose.
One genus that does cope though is Berberis and, in my experience, specifically those Berberis species we previously knew as Mahonia. Perhaps leathery, moisture-retaining leaves help. Just inside the railing, by the bridge at the top of the gully, three Berberis bealei (synonym Mahonia bealei) are growing only a couple of metres away from one Plagianthus. The tree's roots extend across the site, well beyond the drip-line but the three B. bealei have settled in well in spite of this. Now in their fourth year of establishment, the Berberis are bushing out with new stems from the base and beginning to form a stronger presence in relation to the rhododendrons in the background.
Berberis bealei is one of the more robust, taller growing Asian species, which, given a free draining soil, is tolerant of a wide range of sites. The spiny, holly like leaves have 9-15 dark green leaflets. A particular idiosyncrasy is the terminal leaflet is usually significantly broader than the laterals.
Winter flowering is the key attraction though. Long racemes of yellow flowers appear at the top of mature stems and help lift the mood in spite of the cold.
Doug Thomson is curator of the Rhododendron Dell at Dunedin Botanic Garden.