Small Size, Big Assets
This article was first published on 12 Nov 2014.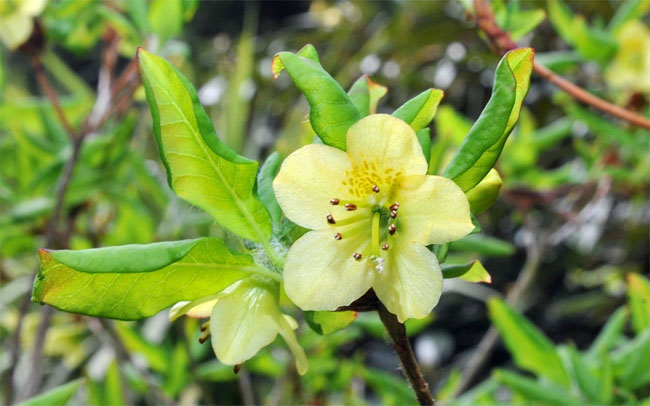 Rhododendron mekongense var. melinanthum
Now that the swathes of main season rhododendron colour have largely fallen away, a small, much more modest species has a chance to attract some attention.
Rhododendron mekongense var. melinanthum is nestled in beside a large group of Rhododendron 'Ken Burns' on the edge of the Cynthia Walk in the Rhododendron Dell at Dunedin Botanic Garden. Until now everyone has walked along, agog at the profusion of the larger rhododendron's creamy yellow blooms, and may easily have missed the emerging scattering of pale yellow flowers on R. mekongense var. melinanthum.
The flowers are open and quite flat-faced, with a sprinkling of greenish yellow spots on the upper part of the bell shaped part of the flower, known as the corolla. They have a refined delicate beauty.
Deciduous, the leaves have a much softer texture compared to the evergreen rhododendrons, as they do not have to withstand harsh winter weather. The leaves are in fact similar to those of their cousins, the deciduous azaleas. They emerge tinged purple before clearing to a light green that complements the light colouring of the flowers perfectly.
The leaf stalks on the new growth are covered in pure white bristles that also extend along the underside of the leaves, whilst the upper leaf surface is covered in downy hairs, softening the appearance of the whole plant.
So, although this is not a plant to take your breath away with its bold colour or luxuriant foliage, given a closer look, it has a charm all of its own.
Doug Thomson is curator of the Rhododendron Dell at Dunedin Botanic Garden