Species Stands out from its Cousins
This article was first published on 12 Jun 2014.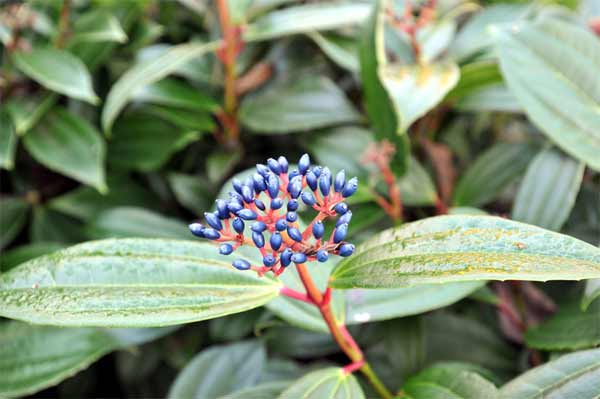 Viburnum
Viburnum is one of the most versatile genera for the woodland garden. Within its ranks it has spring, summer, autumn and winter flowering species. In fact, in New Zealand, compared to the more definite seasons in viburnum's native lands, our milder climate can commonly result in spring or autumn flowering species flowering in winter too. They can be scented or non-scented, deciduous or evergreen and they vary from low growing shrubs to small trees.
In 2007 I planted a small selection in the Pontica Area in Dunedin Botanic Garden's Rhododendron Dell and these have all grown well. They enjoy any deep, rich, moisture retentive soil in sun or semi shade so the north-west aspect of the Pontica Area, under the shelter of the maturing magnolias, is ideal for them.
Another strong feature in many viburnums is fruit, and one species in the Pontica Area possibly has the most striking fruit of them all. Although Viburnum davidii has fairly mundane clusters of small white flowers, they develop into ovoid, bright metallic-blue berries.
V. davidii forms a spreading dome of dark green foliage about 1.5 m tall. Each leaf has three distinct veins that are almost parallel and give texture to the plant as a whole. Sitting clear of those, the striking berries stand out to catch the eye and the occasional dusting of frost.
The only proviso is that as Viburnum davidii has separate male and female forms, to get the fruit you need to grow both together.
Doug Thomson is curator of the Rhododendron Dell at Dunedin Botanic Garden.