Spring Bells are ringing
This article was first published on 05 Nov 2013.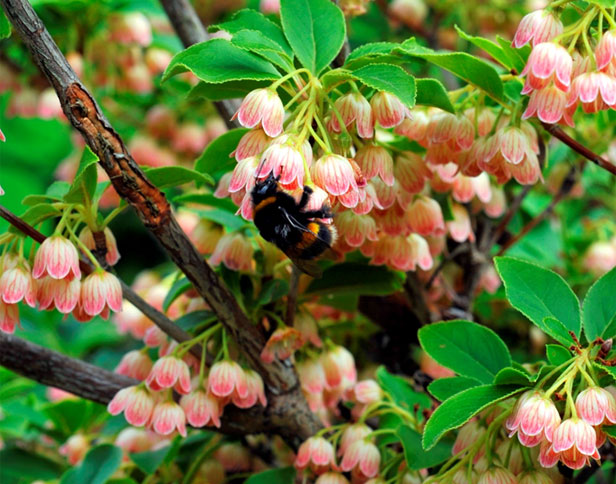 Enkianthus campanulatus
If you're looking for a different plant for a woodland garden, or a plant to complement your rhododendrons or camellias, then this might be the plant for you. Enkianthus is in the heath family and enjoys organic acidic soils in partly shady locations.
It is this time of year when you will notice Enkianthus with little racemes of bell-shaped flowers similar to Pieris, to which it is closely related. These bells can be white, pink or red or even various combinations of the three on the same flower. In most species the flowers are only small but are very beautiful and intricate.
Enkianthus campanulatus is the most readily available species, with white or pink flowers with red veins, earning the common name of red vein enkianthus. It forms only a small shrub to about 2 metres tall and similar width.
Enkianthus deflexus is one of the largest of the group, forming a small tree with very large white through to red bell flowers.
The great thing about these plants is that spring is not the only time of year when they are showy. When late summer arrives many species will start to turn shades of yellow, orange or red and continue to enhance in colour right through the autumn. This is their time to outshine evergreen plants around them, before losing their leaves and waiting until spring to shine again.
Enkianthus can be seen in the North Asian border of the Geographic Plant Collection near the Signal Hill Rd entrance to Dunedin Botanic Garden.
Dylan Norfield is the Geographic and Arboretum collection curator at Dunedin Botanic Garden.