Spring vibrancy embodied in one tree
This article was first published on 22 Oct 2019.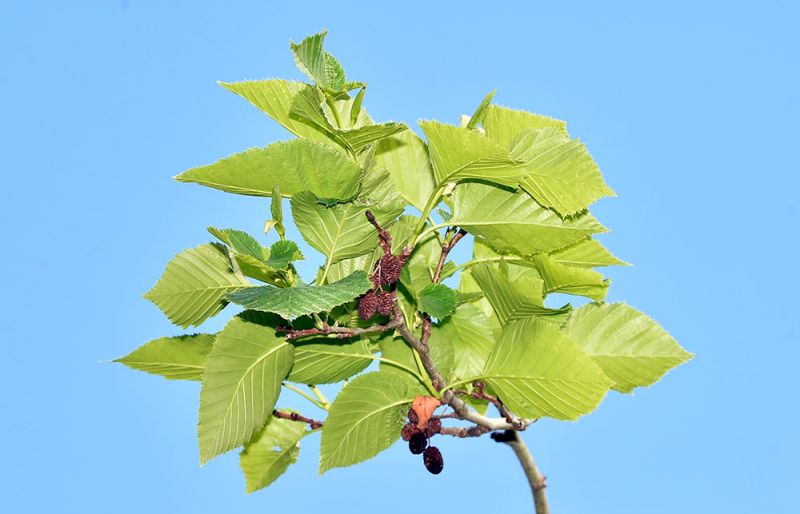 Alnus maximowizii
Photo by the Otago Daily Times
'Natures first green is gold', a line from poet Robert Frost, echoes at this time of year. We are fortunate in Dunedin to have a profusion of deciduous trees that herald distinct seasonal change. At Dunedin Botanic Garden and all around the city it is the spring green leaves popping out on oaks, maples, tulip trees, alders and other deciduous trees that are eye catching and cheerful now that the blossom is fading.
Alnus maximowiczii is just one example of a beautiful deciduous tree with this stunning seasonal attraction.
Bright, fresh green leaves are emerging now. Leaves mature into lush, heart -shaped, ribbed leaves with a double toothed edge.
Vibrant crimson female catkins coupled with long, pale yellow male catkins emerge off bare stems at the beginning of spring. Male catkins disperse their pollen in the wind and then drop. The fertilized female catkin grows and hardens to a dark brown cone 2-3 cm long and attractively adorns the tree through the winter.
This species originates from montane areas of Japan, Korea and East Russia which means it grows well in colder climates such as ours. Alnus maximowiczii prefers infertile, clay soils, and wet conditions,ideal for many tricky spots in Dunedin.
Alnus maximowiczii is growing in the North Asian borders of Dunedin Botanic Garden's geographic collection and the arboretum, along with an abundant profusion of fresh green bursting leaves on a variety of deciduous trees.