Stranvaesia davidiana
This article was first published on 18 Feb 2011.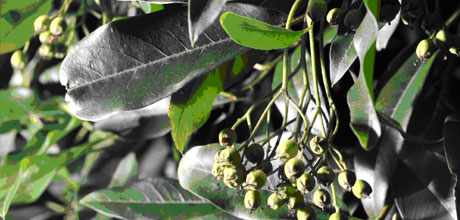 Stranvaesia davidiana
Shelter Protects Garden
Gardeners and garden lovers alike should never underestimate the value of a good shelter. Plants along boundaries screen not only wind but also noise, rubbish, pollution, dust and even unwanted views. The inner garden becomes a quiet, calm sanctuary – a peaceful place to rest and enjoy.
Shelter plants in the Lower Botanic Garden
Plants need to be carefully chosen to create an effective and good-looking shelter. Along State Highway 1 beside the lower Botanic Garden they need to be tough - wind, sun, pollution and drought resistant – and respond well to regular pruning and preferably be evergreens. Spiny, barbed and poisonous plants are avoided unless I have a specific use for them.
A Good Shelter Plant
A plant that fits well into the lower garden shelter is Stranvaesia davidiana, a large evergreen shrub or small tree, related to Photinia. Small white flowers appear briefly in summer followed by olive green fruits which have started developing now. They hang down all along the branches in big showy clusters. From autumn the fruits slowly change colour, resulting in an impressive display of brilliant magenta crimson pomes.
Stranvaesia davidiana was recently known as Photinia davidiana
The older leaves turn bright red in autumn
In a larger area of shelter it looks better to incorporate bigger drifts of plants and use repetition of your chosen plant groups rather than using too many different species
Marianne Groothuis is the camellia and theme plant collection curator at Dunedin Botanic Garden.