Summer Care of Roses
This article was first published on 29 Nov 2011.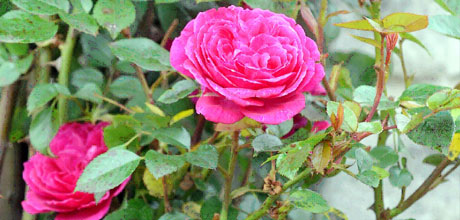 Roses
To keep roses at their best and encourage a non-stop display of flowers, a few simple summer tasks may help you along the way.
Dead heading
Removal of old flowers allows the plant to put its energy into new growth and repeat flowering rather than seed production. Take off old flowers down to the top five-leaflets of the stem.
Garden hygiene
Remove any fallen flowers and leaf litter from the base of the bushes, to avoid attracting pests and diseases. Regular cultivation will aerate the soil, reduce compaction and help keep the weeds down.
Mulching
Cover the ground to conserve moisture and suppress weeds.
Watering and Feeding
Roses like a good long soak as it encourages them to develop a deep root system. Each rose bush should receive approximately 10 litres of water each week.
Fertilise a little and often. Apply when soil is moist, around the drip line. This will get the nutrients to the outer feeder roots.
Pest and Disease Controls
To maintain a healthy rose bush you can use a chemical or organic product to help control pest or disease problems. Companion planting is also another good option.
Selecting new roses
Public garden displays: Many towns have displays of roses so while on your summer travels have a look around. Dunedin Botanic Garden rose garden is in the lower Botanic Garden, off Great King Street.
Flower shows: Visit the Otago Rose Society local rose show to be held this weekend at Forbury Park. It provides a good opportunity to see many named roses on display.
Linda Hellyer is curator of the Rose Garden at Dunedin Botanic Garden