Summer Christmas Allows Scented Tradition
This article was first published on 13 Dec 2012.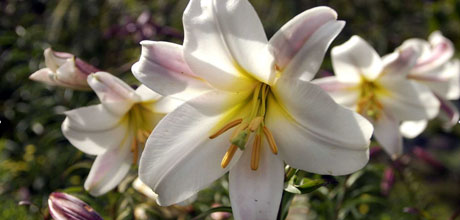 Christmas lily
Many of us have family traditions or rituals at Christmas time. Mine is having a vase full of Christmas lilies in the house.
I have a great memory as a kid of my uncle and aunty arriving from Timaru a few days before Christmas - they would always bring a bunch of Christmas lilies from their garden. To me the festive season wouldn't be the same without the divine smell of these lilies in a vase or the great wafts of scent in the open air.
The lilies we know of as Christmas lilies are Lilium regale. Lilium longiflorum is also pure white and has a sweet honeysuckle fragrance but to me it has to be Lilium regale – trumpet shaped white flowers have a yellow throat, are flushed purple outside and have strikingly prominent yellow stamens.
Lilies are summer flowering. They are relatively easy to grow but ideal for a sunny location with good drainage. There's an old saying they like their 'heads in the sun and feet in the shade.' Some of the stems may require staking to support larger blooms. You can lift and replant every 4/5 years.
Lilies add an exotic look to the flower garden. With their height, wide colour range and the bonus of fragrance from some of them, it is worth considering adding a few to your flower garden.
Like a child counting down to the big day with an advent calendar, watching Christmas lily buds open you know you are getting closer to Christmas day.
Linda Hellyer is curator of the herbaceous borders at Dunedin Botanic Garden