Summer Snow in Garden
This article was first published on 07 Dec 2012.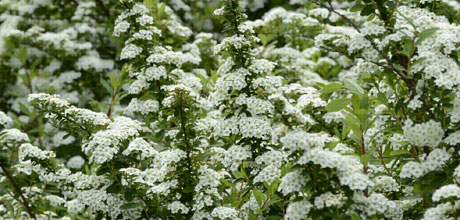 Spiraea nipponica
Spiraea nipponica 'Snowmound' puts on a fantastic flowering display in late spring and early summer. This delightful deciduous shrub has mid-blue/green foliage that's produced from new red stems which gracefully arch, forming an attractive rounded shrub. Masses of small white flowers sit above the foliage which smothers the shrub, making this plant a real crowd pleaser at this time of year.
Spiraea nipponica 'Snowmound' is fairly fast growing and will reach 1.5m in 2 to 3 years and ultimately reach a height of 2.5m.
Generally it's a low maintenance plant that can be trimmed back to keep the plants looking nice and compact and prevent leggy growth. Older shoots can be removed at ground level to keep the height down and encourage new growth from the base, keeping the plant vigorous. This is usually done straight after flowering but the plant can be pruned any time after flowering, from late summer until it starts to produce new buds in early spring. Hard pruning at ground level after flowering is recommended if the plant has become very overgrown.
Propagate by soft wood cuttings in summer. It prefers full sun with a moist free draining loam but will tolerate a wide range of soils. It is well suited to the shrub border and looks good planted with colourful foliage shrubs, or at the back of a perennial border or in a mixed border. A planting can be seen growing along the edge of the Clive Lister Garden on the main pathway through the Lower Botanic Garden.
Stephen Bishop is curator of the Clive Lister Garden at Dunedin Botanic Garden.