Suppression avoids Prickling
This article was first published on 20 Mar 2014.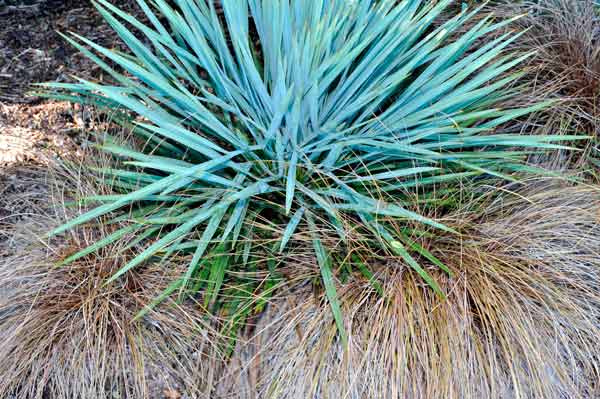 Aciphylla
If you love to grow unique native plants in your garden, then you are probably familiar with the fiercely-foliaged Aciphylla, also known as Spaniard or speargrass.
With their striking, architectural form, some of the large Aciphylla species make spectacular garden plants. But if you've ever tried to weed around one, you'll know the feeling of a rigid, rapier-like leaflet jabbing its spiny point into the back of your unsuspecting hand.
How to weed around a speargrass? The quick answer is not to let the weeds grow in the first place. Apply a thick mulch of straw, gravel or wood chips under the leaves of the speargrass to aid in weed suppression. Just take care if you're using a natural mulch, such as pea straw, not to bury the plant's crown or pile the mulch right up against the stem. Speargrasses are prone to root rot fungus and air flow is important in preventing this.
You could also plant a living mulch, such as one of our many native, ground covering species. This will help suppress weeds and gives you the chance to play around with different colour, tone and texture combinations.
One technique I've found useful for weeding around speargrasses is to use a garden fork to sweep a section of the spiky foliage away from the spot you need to weed, stabbing the fork into the soil to keep the leaves out of the way until you are finished.
Kate Caldwell is curator of the native plant collection at Dunedin Botanic Garden.