Surprising Stars of Spring
This article was first published on 19 Nov 2020.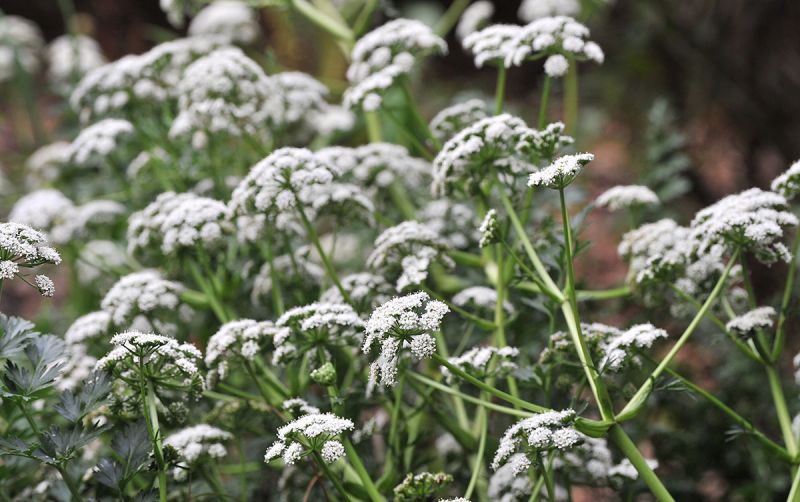 Anisotome lyallii
Photo by the Otago Daily Times
Spring is a delightful time to make regular visits to Dunedin Botanic Garden, with fresh foliage and new exotic plants bursting into bloom daily. Amidst all this verdant splendour are the native plants, some shy and subtle in their flowering, but just as full of life.
At bush margins, fast-growing wineberry or makomako trees are smothered in clusters of delicate, rose-pink flowers. Like many natives the flowers are small but numerous, putting on a good display.
It seems to be a good year for tῑ kouka, the cabbage trees, with sweetly fragrant blooms emerging in large, branched inflorescences of thousands of tiny, white flowers. Tradition says a heavy flowering of tī kōuka indicates a long, hot summer is ahead.
Close to the ground, native plants in the carrot family are also having a good flowering year – the coastal herb, Anisotome lyallii, (pictured) is like a garden carrot on steroids, with big, feathery leaves and chunky sprays of white flowers. Alpine Anisotome haastii, more compact, is also in flower, and Anisotome latifolia, from the subantarctic islands, is budding up with its pinky purple flowers.
Another coastal plant, rauhia or Linum monogynum, has graceful stems that wave in the wind supporting simple, saucer-shaped white flowers. Planted en masse they create a delicate display, textural and dynamic.
We can look forward to iconic stunners like rātā and pōhutukawa in the new year, but in the meantime, there are plenty of native flowers to enjoy.