Sweet Flower a Star of Spring
This article was first published on 13 Oct 2016.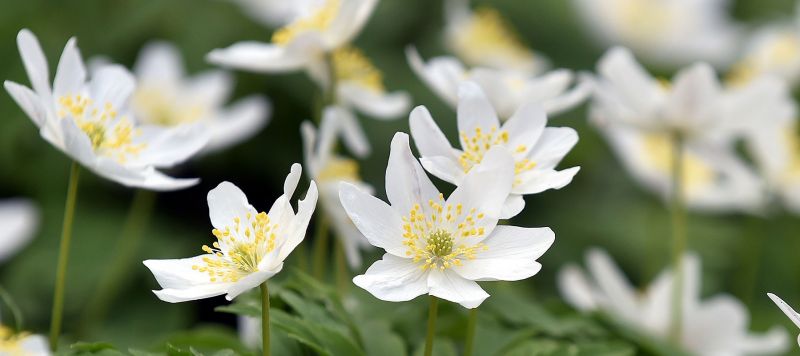 Anemone nemorosa
Photo by the Otago Daily Times
Each spring, star-shaped flowers appear on a fresh new carpet of green, fern-like leaves. Flowering of Anemone nemorosa starts early in the season, soon after new foliage appears. A mass of short-stemmed, single, white flowers with prominent yellow stamens appear, ready to flower through into summer.
Commonly referred to as the wood anemone, this perennial is a very reliable, low growing ground cover. It can spread over a wide area when it finds a location it is happy with and is one of those plants that you leave to fill an area or naturalise.
To contain growth, you can dig around the outside of the plant to your desired size and fork out the bulk not required. Do be aware, though, it can easily grow from underground root- like stems called rhizomes. They can colonise freely. Even a small piece of rhizome will rapidly make a new plant.
Wood anemone requires little maintenance and is very easy care. It prefers a moist, well-drained soil and partial shade. In late summer the foliage will begin to yellow and die back - just allow it to die down naturally and use a rake to remove the excess foliage.
It's flowering now throughout Dunedin Botanic Garden. Growing through the Rhododendron Dell, see it also in the lower botanic garden beside Lindsay Creek. It is looking particularly stunning growing near the playground under rhododendrons and magnolia, contrasting nicely with the pink flowers of the Bergenia pacumbis and Helleborus orientalis planted close by.
Linda Hellyer is curator of the herbaceous borders at Dunedin Botanic Garden.