Sweetness on a Stick
This article was first published on 13 Mar 2012.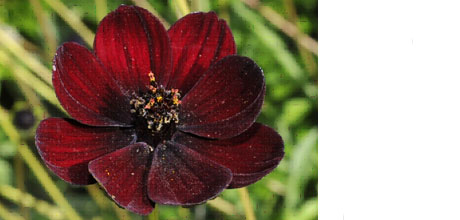 Cosmos
If you are looking for an easy care perennial, try this one. It has an unusual flower colour and the fragrance of a favoured food.
MexicanCosmos astrosanguineus suits full to partial sun. Choose a handy spot as you're going to want to smell it often – it has the sweet smelling fragrance of chocolate! The scent is most evident in the evening, or a hot sunny day.
Chocolate cosmos flowers throughout summer, generally till the first frosts arrive. Deep maroon, daisy-like flowers have a darker brown centre. Each flower waves above the foliage on a single wiry stem. The plant dies down during winter but its dark green leaves reappear in late spring.
Propagation
Slow to develop, it can be divided once established in spring.
Location
See and smell it at Dunedin Botanic Garden near the main gate in the herbaceous borders. It is also in the Mexican border, north of the aviary.
Linda Hellyer is curator of the herbaceous borders at Dunedin Botanic Garden.