Take a Moment
This article was first published on 09 Jun 2017.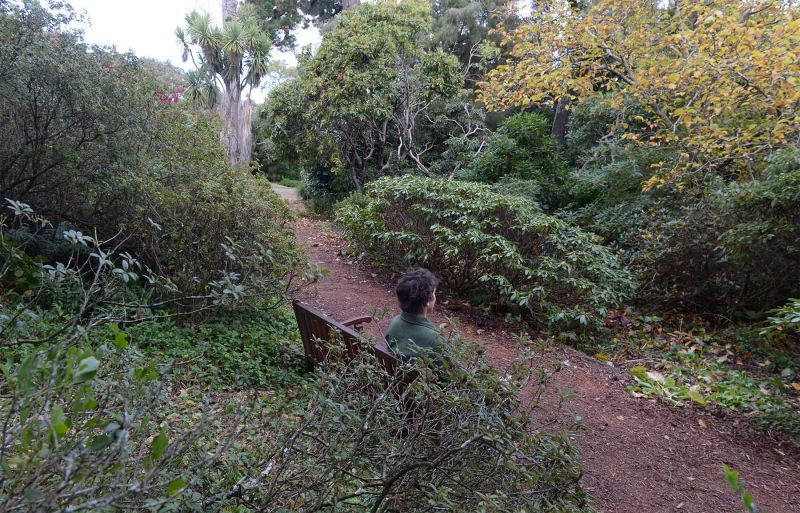 Take a Moment
Photo by the Otago Daily Times
"The contemplation of beauty allows the soul to grow wings" - Plato
In our hectic modern world, life can be busy. Many of us work hard all day, striving to earn a dollar, to finish something, be somewhere. It is so easy to not stop and appreciate the world around us and the things we have already accomplished.
Gardening, although enjoyable, can be a bit the same. The temptation can be to have head down, working hard-out. But when we take the time to observe and appreciate what we've achieved, it gives a chance to open our minds to realisations and inspirations. Our best ideas can form.
For many, creating a place for pleasure is a reason we garden. At Dunedin Botanic Garden places for people to relax and recharge are woven through the design of the plant collections. The naturalistic upper garden has sunny lawns with views, seats placed in private pockets and bush tracks that take you to what feels like the middle of nowhere. Even in the busy lower garden, there are spots that feel private, such as the new jetty by the duck pond. The Clive Lister Garden was funded by a visitor who appreciated the contemplative times he had in the Botanic Garden, so its design prioritises this very purpose.
Whether it be a little spot in your own garden or one of the many beautiful places throughout Dunedin Botanic Garden, take a moment to contemplate. You never know what might come of it.
Garden Life isproduced by Dunedin Botanic Garden. For further information contact Carla de Boer.