Tender Plants Grow in Dunedin
This article was first published on 18 Dec 2019.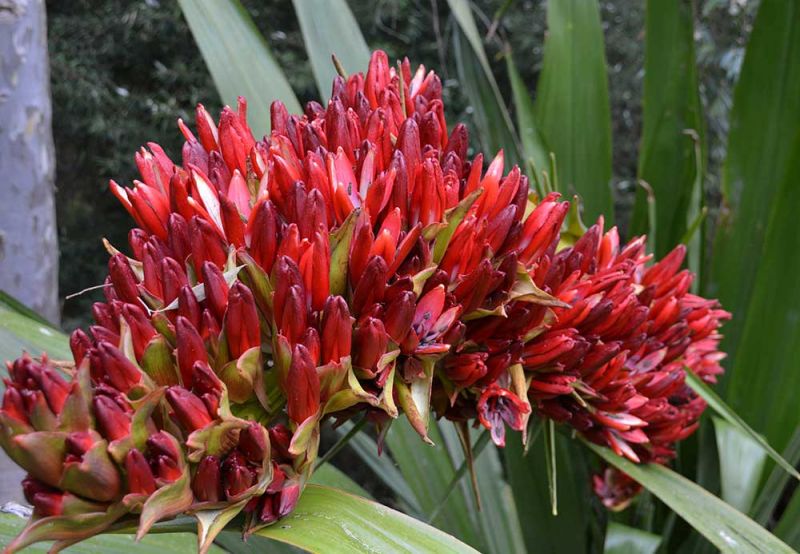 Doryanthes palmeri flower
Photo by the Otago Daily Times
As much as some of us might complain about Dunedin's climate, it's actually the best of many worlds. Winter isn't the big event it is in northern continents and summers aren't extreme. This reasonably forgiving climate means festive, flamboyant, tender, subtropical plants can survive and even flourish in Dunedin in the right position
Big, broad leaves add an instant dramatic contrast to many deciduous shrubs and herbaceous perennials grown in southern gardens.
At Dunedin Botanic Garden there is currently a spectacular spire on Doryanthes palmeri, pictured, an Australian Queensland native, flowering for the first time in 15 years. It's in the geographic plant collection's Australian border, near the aviary.
Ornamental bananas do fine. New bananas and non-weedy gingers have been planted in the nearby Shanghai border in the last month. Heralding from North Asia, beautiful Musa velutina, Musa acuminata var. sumatrana and Musa ×paradisiaca are growing along with gingers, Alpinia officinarum and Alpinia zerumbet.
The key to success is to plant in a sheltered spot with rich, free draining soil. Plant in full sun or partial shade and irrigate regularly. Choose a microclimate, if you've got one, or a sheltered spot protected from frost and southerly winds.
Keen gardeners like to try new plants and although there are no guarantees, the promise of subtropical foliage and bright flowers can encourage the festive, holiday feel.