The Fierce Five
This article was first published on 22 Mar 2013.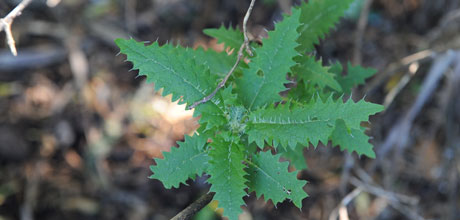 Ongaonga
New Zealand native plants are not all harmless. There are five native stinging nettle species and unfortunately, they grow in places where people like to go.
Most notorious is the tree nettle or ongaonga, Urtica ferox. Obvious white hairs cover the stems and leaves and cause quite a bit of pain on contact (take my word for it - I speak from experience). Growing throughout the country in coastal to lowland forest margins and shrubland, it is fairly common in coastal vegetation around Otago.
Another native nettle growing in similar habitats is Urtica incise. It is a smaller species and, found also in Australia, is the only one growing naturally outside New Zealand.
Not as ferocious but still able to sting, a third species, Urtica australis, can be stumbled upon in both coastal forest and open ground. However, its faraway Fiordland and southern island homes means this is less likely.
The remaining two native species have different habitats. Urtica aspera lives in open places in lowland to montane areas of the South Island and Urtica linearifolia grows in lowland swamps. The leaves of this nettle are quite linear and although the plant is clad only sparingly in the stinging hairs, you still know if you come in contact with it.
Although not nice to the human touch, nettles are important plants for butterfly larvae and other insects, offering a source of food and protection from predators.
Ongaonga can be seen in the tree and shrub border of Dunedin Botanic Garden's Native Plant Collection. Look but don't touch!
Shirley Stuart is curator of the New Zealand Native Plant Collection at Dunedin Botanic Garden.