The Glow of Paradise Camellias
This article was first published on 13 Apr 2011.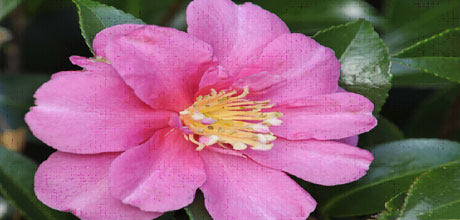 Camellia sasanqua
At this time of year if you see anything resembling paradise it's worth a closer inspection.
Catching my attention this April is Camellia sasanqua 'Paradise Belinda'. The bright pink flowers have an iridescent glow which is perfectly timed to cheer up the first of autumns grey days. You can find it in the lower botanic garden, beside the Great King Street fence-line near the gardens corner.
A compact and upright habit growing to 2-3 metres makes it ideal as a natural hedge. The foliage is shiny and dark green, with a finely serrated, lighter green margin. This is typical of many sasanqua camellias.
The Paradise camellias are well worth looking out for. Since the 1970s, Bob Cherry of Paradise Plants, Australia, has been committed to growing and selecting superior camellia sasanquas. From the thousands of plants grown, checked and assessed some are chosen, for their longer flowering, fragrance, good growth habits and different flower colours.
The camellia flowering season has been kicked off for the year with the beautiful autumn and winter flowering sasanqua camellias
Pick up the camellia collection brochure at the Dunedin Botanic Garden information centre with a map and key showing where all the sasanqua camellias are planted.
Marianne Groothuis is the camellia and theme collection curator at the Dunedin Botanic Garden.