The Spooky Old Tree
This article was first published on 16 Aug 2012.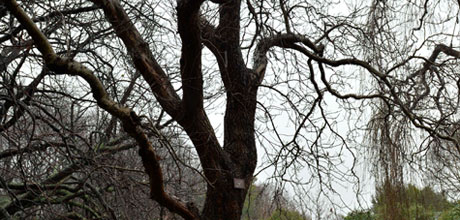 Juglans regia
There are four good reasons that contribute to Juglans regia being interesting trees to grow.
Number One – They produce walnuts. Walnut trees are fully hardy but need a sheltered and frost free area in full sun to grow and crop well.
Number Two – They have character. In the winter especially, the chunky wooden skeleton of a spooky old tree is exposed. The semi-rounded crown has thick, angular branches ending in short stocky twig growth. The older bark looks like fissured cork.
Number Three – They bleed. Walnut trees can bleed excessively from pruning wounds. I once noticed a large cut on a Juglans regia weeping for weeks afterwards. Never prune when the sap is, or is about to start rising. This is from the middle of winter onwards through to late summer – so it's too late now! Walnuts are very prone to dieback from poor pruning cuts. Give walnuts their formative prune early in life if needed so that afterwards any pruning can be kept to a minimum.
Number Four – There is an excellent identification tip. Young walnut wood is made up of hollow compartments of very fine pith. If you cut a young stem through vertically these compartments are easily visible.
There are three mature walnut trees in the lower Dunedin Botanic Garden of which two look over a hundred years old. The youngest walnut is in the herbaceous borders, near the main garden entrance. The remaining two are growing along the lower garden west boundary shelter planting.
Marianne Groothuis is the Camellia and Theme plant collection curator in the Dunedin Botanic Garden.