The start of winter tidy up
This article was first published on 26 May 2011.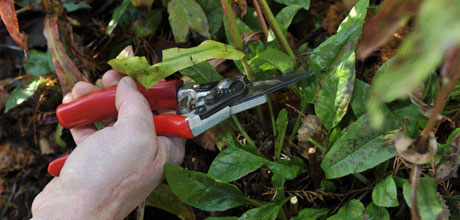 Winter tidy up
It's that time of year again when areas of the garden are starting to look tired. This year in many areas it is more apparent due to all the strange weather phenomena we have experienced. Where do we start?
In the geographic borders at Dunedin Botanic Garden I often start with the herbaceous plants. These perennial plants that often die back to the ground each winter, only to spring into growth again when temperatures warm up.
It is not quite as straight forward as just going in and cutting all the vegetation back to the ground in autumn. Too early a cutback can result in the plant growing away again the same season and the fresh growth being caught by frosts. This can happen with some of the salvias in the Botanic Garden Mexican border - they are best left until last, when the temperatures are cold enough to stop them growing.
When cutting back the untidy old or brown foliage and stems I leave 5cm above the soil so that you can remember where the plant is. We all think we can remember where they are but in the spring when you want to plant those new plants, location of the established plants is essential.
This is a great time of year as at last you can see all those weeds that have been hiding and stop them from seeding, and rake up all the leaves leaving a tidy clean bed for the winter.
Dylan Norfield is the Curator of the Geographic Collection and Arboretum at Dunedin Botanic Garden.