The Whitty Tree
This article was first published on 12 Oct 2012.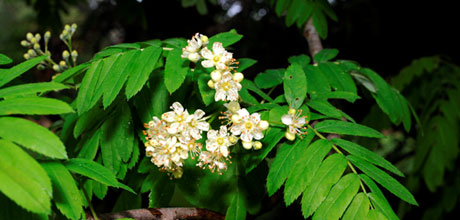 Sorbus
Sorbus domestica is a very rare tree. The first reported discovery was of a single specimen in 1678 in the Wyre Forest, near Birmingham, England. In the 1800s a poacher burnt this tree down and was reputedly banished to Australia for his crime. Luckily, material had been propagated and some progeny survive today.
More recently, in the United Kingdom, several proven wild populations have been found. In a 1999 study the tree was reported to be represented there by a meagre 23 wild plants and 22 suckers!
Native to parts of Europe, Africa and Asia, Sorbus domestica is also listed as endangered in Switzerland and Austria and uncommon in Spain.
Commonly called the whitty tree, true service tree or sorb tree, it can live for up to 400 years. Dunedin Botanic Garden has one large, mature Sorbus domestica estimated to be about 100 years old. It makes up part of the lower garden tree collection in the lawns near the carpark.
Sorbus is in the rose family and the typical flowers have 5 petals. The Botanic Garden whitty tree is on the cusp of flowering. The flowers are small and white with about 20 creamy stamens, growing in clusters. The 25cm long leaves are pinnate and made up of 13-21 leaflets.
Over summer 2-3cm fruits develop, which ripen into a greenish brown, tinged red on the sunny side. Picked straight from the tree, the fruit is astringent but left to over-ripen, becomes sweeter and good to eat.
Marianne Groothuis is the camellia and theme collection curator at Dunedin Botanic Garden