Tiny Flowers have Big Impact
This article was first published on 25 Oct 2017.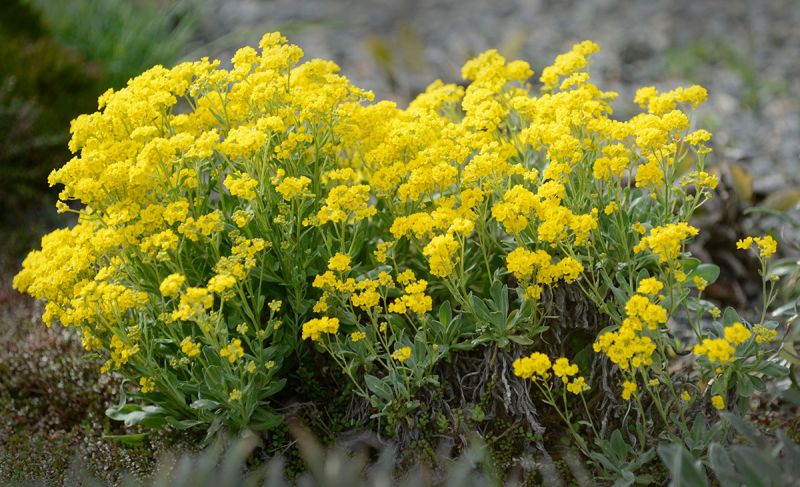 Aurinia saxatilis
Photo by the Otago Daily Times
Each individual flower is tiny, but en masse Aurinia provides prominent splotches of golden yellow throughout the rock garden at Dunedin Botanic Garden.
Aurinia saxatilis is native to rocky mountain habitats in central and southeast Europe. Common names include the very apt "basket of gold" and "golden alyssum" - alluding to the close relationship with Alyssum. It is a very easy rock garden or border plant and given plenty of sun and a well-drained soil, Aurinia will flower profusely through mid to late spring.
Belonging to the Brassica family, the whole plant has a slight hint of eau de cabbage - this is more than made up for by the intense golden hue of the blooms which smother the foliage. Occasionally a plant will have pale lemon flowers. Leaves are spoon shaped and grey-green which further enhances the flower colour.
The whole plant can be cut back to near the base when flowering has finished to encourage new growth and keep the plant compact. If you want to bulk up your planting, leave to set seed before cutting back. There is often a second, less profuse flush of flowers in summer.
Other striking splashes of flower colour on the rock garden at present are orange Berberis, vivid blue Lithodora and bright pink Phlox.
Garden Life is produced by Dunedin Botanic Garden. For further information contact Robyn Abernethy