Tropical Beauties Flower at Garden Now
This article was first published on 14 Aug 2013.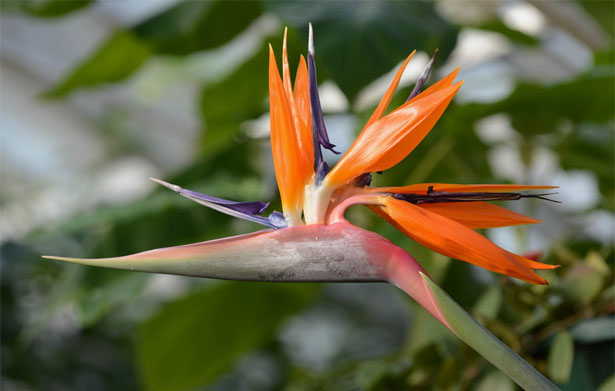 Strelitzia reginae
When I think of the tropics two plants come to mind, Hibiscus, which appears on those loud shirts tourists often wear when in Hawaii, and Strelitzia, commonly known as the bird of paradise. The bright flowers give that instant tropical feel to any garden or glasshouse.
There are 5 different species of Strelitzia, all native to South Africa. Three are currently flowering in the central house of the winter garden glasshouse at Dunedin Botanic Garden.
The tallest species Strelitzia nicolai is often mistaken for a banana plant, a close relative, as the foliage looks similar. Once it starts to flower it is easily recognised with its distinctive white sepals and blue petals. Eventually reaching a height of 10m, it forms a dense clump to 3m wide. This plant needs space to thrive.
Strelitzia reginae is the most common species, and is grown in most tropical regions around the world as an ornamental plant. It was introduced to England by Sir Joseph Banks, a man responsible for introducing many of New Zealand's plants to the world. Reaching a maximum height of 2 metres, it is a lot easier a perennial to house. The foliage looks similar to S. nicolai only on a smaller scale. It has orange sepals and blue petals.
Strelitzia juncea has interesting foliage, long reed-like, upright cylindrical leaves up to 2 metres without a leaf blade and with a small 'spoon' at the tip. The flowers look similar to Strelitzia reginae. This species is the most drought and frost tolerant.
Stephen Bishop is curator of the winter garden glasshouse at Dunedin Botanic Garden.